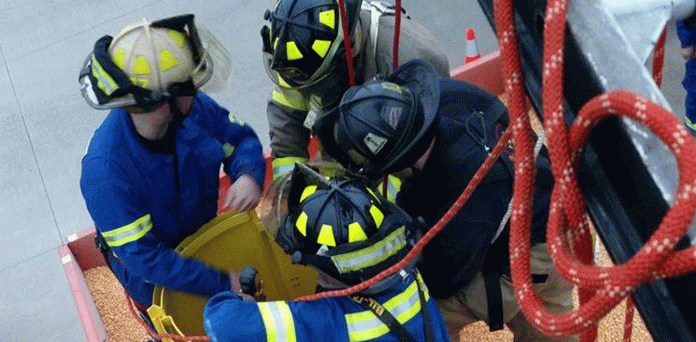 The National Farm Medicine Center's (NFMC's) largest-ever safety demonstration will be part of Wisconsin Farm Technology Days, July 10-12, near Marshfield.
NFMC is working with Pittsville Fire Department, the Kentucky Department of Agriculture, Progressive Agriculture Safety Days, local FFA chapters and others in setting up live demonstrations in tractor rollovers, tractor rollover rescues, grain rescue, child safe play areas and interactive activities for older children.
NFMC's parent organization, Marshfield Clinic Health System, is a major sponsor of the Farm Technology Days and will provide an array of health screenings, including skin cancer screening funded in part by Auction of Champions donors.
"One of the things visitors will see is how closely a health care system can be involved with rural health care, and in taking care of its agricultural community," said NFMC scientist Casper Bendixsen, Ph.D. "That will be a really neat feature that we haven't seen at previous Farm Tech Days."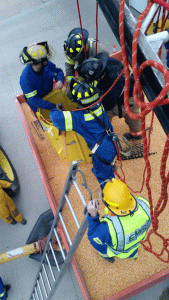 Farm Tech Days is being hosted by Daryl and Brenda Sternweis Farms and Weber's Farm Store/Heiman Holsteins.
Daryl Sternweis encourages visitors to check out the National Farm Medicine Center Farm Safety and Rescue Area, because "everyone needs to learn the newest and safest ways to conduct their everyday life. That way, when they face a safety-related issue or problem on their farm, everyone knows what to do and where to go."
Fire departments from Arpin, Vesper, Richfield and Hewitt will join Pittsville in staffing two of the demos in the Safety and Rescue Area. Adjacent exhibit tables will feature the National Farm Medicine Center and its Wisconsin Rollover Protective Structure (ROPS) Rebate Program.
"Our partnership with NFMC allows us to work with leaders in ag safety and research," said Pittsville Fire Chief Jerry Minor. "They, in turn, listen to us regarding the needs of the fire/rescue community, which helps us build a better department."
The National Children's Center for Rural and Agricultural Health and Safety, part of NFMC, will be hosting two activities in the Future Generations Area. The first is a "Safe Play Area" for children under 6 years old, containing play items for young children to try out while the parents learn more about how to build or upgrade play areas. In the second area, the Children's Center will partner with Progressive Agriculture Foundation to offer interactive activities for older children and teens, with "prizes" available for completing activities. Meanwhile, parents can learn more about assigning work to youth on farms, based on the youth's age and abilities.
To stay updated on all the safety and rescue activities, go to www.marshfieldresearch.org/nfmc, and like NFMC on Facebook, www.facebook.com/farmmedicine and www.facebook.com/CultivateSafety.
Register to win a free ROPS at Wisconsin Farm Technology Days! (July 10-12, Marshfield) Visit the National Farm Medicine Center Farm Safety and Rescue Area, which will feature two ROPS demonstrations: a tractor rollover rescue (conducted by Pittsville Fire Department) and a tractor rollover simulator (provided by the Kentucky Department of Agriculture). NFMC will be registering farmers for rebates all three days, and will draw at 3 p.m. on the final day, July 12, for one free retrofit. Why retrofit? This 90-second NFMC video (http://bit.ly/2HFlay8) tells the realistic story of a teenage tractor operator whose tractor tips over during haying.