Wisconsin Rapids Joins Marshfield and Medford Locations
Wheelers Chevrolet of Wisconsin Rapids celebrated a Grand Opening celebration to welcome their newest store location.
Elite General Motors (GM) leadership spoke, including Detroit based Maurice Williams, who took on the critical role as General Manager for sales support with GM. Williams oversees teams throughout the United States responsible for order fulfillment, dealer business development, dealer diversity initiatives and operations support for Chevrolet, Buick, GMC, and Cadillac.
"I've had the opportunity to work with the Wheeler organization. I've been with GM for a while," said Williams. "I just want to tell you that they are outstanding partners with General Motors, and they are even better representatives in communities in which they do business. I just want to tell the folks of Wisconsin Rapids that you are really getting a great, great, great business partner here."
After the downturn of the economy in 2008, Wisconsin Rapids is a market Chevy had left behind. The completion of the Chevrolet store in Wisconsin Rapids is the first phase of three for the west side of Wisconsin Rapids. Phase two, the deconstruction of the current auto collision center (currently sitting between the two dealerships), is anticipated to begin in spring of 2019.  The new auto body repair shop will be located on the far east side of the nine-acre property, giving body shop manager Kim McCarthy and his expert team a beautiful place to fix and repair vehicles.
After the completion of the collision center, Wheelers plans to begin phase three. Wheelers Buick GMC currently sits in the formerly known Ironside GMC building. A remodel is to be expected, giving the store a fresh, new, updated look to better serve the Wisconsin Rapids community.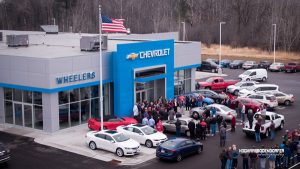 "Today is a huge step for us here, with our progression in Wisconsin Rapids," said Dan Wheeler, co-owner of Wheelers Family Auto Group. "It wouldn't be possible without our great employees, without the support of the community. We've been very well received from day one, when we've come back into Wisconsin Rapids."
"We look forward to many years and strong success here in the community," he added.
As the visionary behind the expansion, the late Ann Wheeler first reached out to Lenny and Larry Ironside to purchase Ironside GMC in 2015. This brought the two franchises together for the first time in Wisconsin Rapids, creating an alignment with the market for General Motors and paving the way for the return of the third GM brand, Chevrolet. Ann Wheeler passed unexpectedly in March of 2017. Though Ann was not able to see her dream come true, she had a dream for the Wisconsin Rapids community, and her children and employees have made it their mission to fulfill that dream, even if it would have to be without her.
"Our mom was a visionary and a pioneer in the automotive industry and I'm just very proud to have our employees, our business partners at GM, and my brother as my partner in this as well," said Mary Jo Wheeler-Schueller, co-owner Wheelers Family Auto Group. "Mom is looking down on us and her vision has come to reality."
Related: