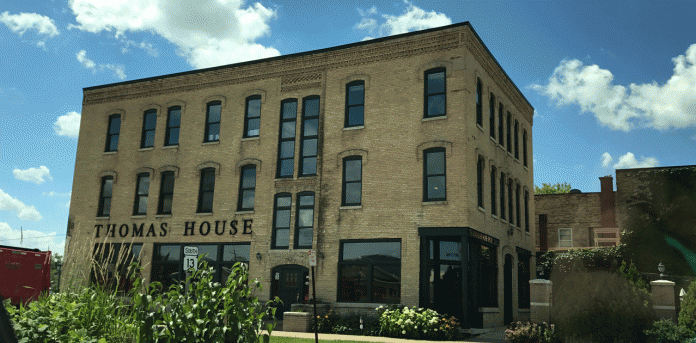 Last Summer of Patio Music at Thomas House
By Bailey Cichon – The local tradition of patio music at Thomas House Restaurant is having its final run as Thomas House prepares to close its doors in September. The building has been sold and the new owner, Simplicity Credit Union, will be occupying the entire building.
The Thomas House Restaurant will be closing September 16th. The building itself will officially close on September 29th.
"As an architect, I designed the patio to have a little stage area in it so I've always envisioned it to be a music area in the summer," said Lyman Smith, owner of Thomas House. "Marshfield, in general, empties out in the summer. Everybody goes to the rivers and the lakes. My concept was that if we had music we would draw in the people left in Marshfield and give them something positive to enjoy."
This summer was the launch of Thursday Up and Coming Musician Night.
"It's kids who are in high school or just newly graduated. That's been neat," added Smith. "I enjoy giving people a chance to play for the public and get some experience."
Thomas House is still looking for musicians to play paid gigs for Thursday Up and Coming Musician Night. To apply send a clip or link to a video as an audition to Lyman Smith at [email protected]
"There's no genre that I don't like," said Smith.
Music nights will continue happening as they have in previous years throughout the summer and into early September. Friday nights are typically gentler with solo performers or duets. Saturday nights are considered 'band nights'.
Take the chance to check off "Attend a patio music night at Thomas House" from your summer bucket list for one more year. Enjoy a drink on the patio and listen to local talent that Marshfield has to offer.
Thomas House Summer Music Schedule 2017
Friday, July 7 – Adria Ramos
Saturday, July 8 –Tommy Bentz Band
Friday, July 21 –Blues Summit
Friday, July 28 –Open Tab
Friday, August 11—Concrete Park
Friday, August 18 – Delta Duo (Howard Luedtke & Cadillac Pete)
Friday, August 25 – Sugar Still
Friday, September 8 – Jay Matthes