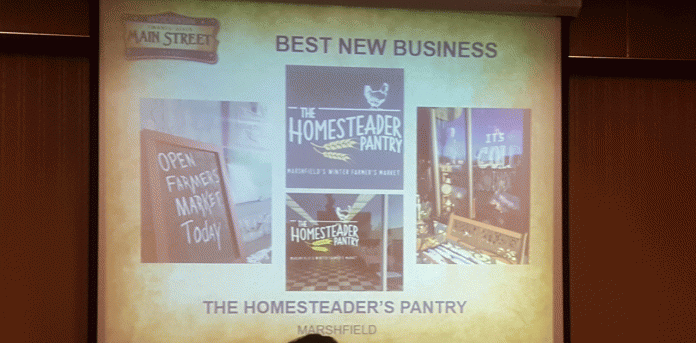 The Homesteader's Pantry Earns Statewide Recognition at Wisconsin Main Street Awards Ceremony
Main Street Marshfield was recognized for its outstanding downtown revitalization efforts at the 26th Wisconsin Main Street Awards ceremony on Friday, April 7, in Wisconsin Rapids. The event was hosted by the Wisconsin Economic Development Corporation (WEDC).The Homesteader's Pantry took top honors as they were selected as the Best New Business in 2016.
The awards ceremony recognized downtown businesses and the efforts by Main Street volunteers and staff for their historic preservation and downtown economic development efforts. Cindy Cole was recognized as the 2016 Honorary Board Member and Danielle Krohn was recognized as the 2016 Volunteer of the Year for Main Street Marshfield.
"We are incredibly proud of our local volunteers and board members. Neither Cole, nor Krohn have a lot of time on their hands, yet they are dedicated to serving our organization and making a positive impact in our community," stated Main Street Marshfield Executive Director, Angie Eloranta.
"Gary Burich, inventor and manager of The Homesteader's Pantry, has always had such a unique and community focused vision, it is no wonder they were chosen for Best New Business," she added.
Burich was one of the original Pop Up Shop participants back in 2015. The Pop Up Shop program won Best Business Development Program at the State Awards last year.
"WEDC congratulates Main Street Marshfield for its outstanding efforts to revitalize and improve downtown," said Mark Hogan, secretary and CEO of WEDC. "A vibrant downtown is critical to a community's overall economic development as well as the quality of life for its residents, and we commend Main Street Marshfield for being among the best in the state when it comes to strengthening its downtown."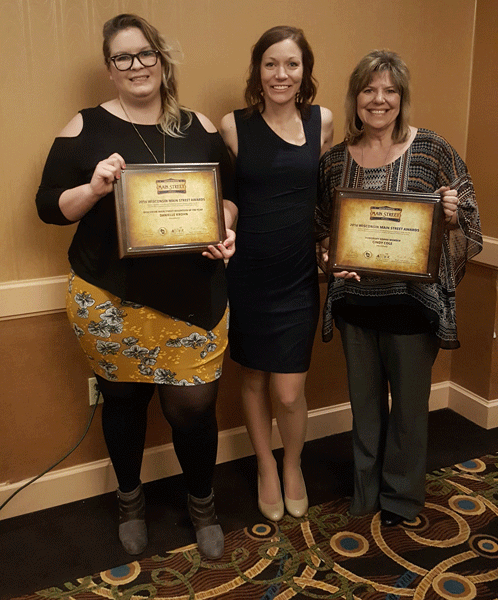 Wisconsin Main Street is a community development program administered by WEDC that targets Wisconsin's historic commercial districts. WEDC provides technical support and training to the 34 Main Street communities to help them revitalize their business districts based on guidelines developed by the National Trust for Historic Preservation.
Since the program's inception in 1987, Wisconsin Main Street community projects have resulted in the creation of more than 2,600 new businesses and more than 13,000 net new jobs. In addition, more than $1.6 billion in public and private investment has occurred in Wisconsin Main Street communities.
Main Street Marshfield has been part of the Wisconsin Main Street Program since 1990.
For a complete list of all the 2016 Main Street award winners, visit www.InWisconsin.com.