Host Jason Zaleski and Green Bay Packers draft expert @aAdam Severt breakdown the 2018 NFL Draft. Jason and Adam take a close look at the...
Rachel and Jason give updates on high school spring sports, Milwaukee Brewers and the NFL draft. It's all yours and it's all now!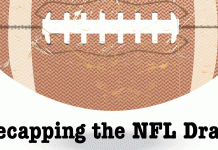 Recapping the First Round of the NFL Draft by Malachi David Thursday night kicked off the 2017 NFL Draft in Philadelphia, Pennsylvania. The biggest question heading into...