Home
Tags
Marshfield Chaparrals
Tag: Marshfield Chaparrals
The UH-60 Blackhawk helicopter performed it's fly-in and then it was the Chaparrals taking flight. Highlights are here!
SPORTSDESK - The 2018 Marshfield Chaparrals season is underway. The Chaps began the season at Jack Hackman Field in Marshfield, WI with a 6-1...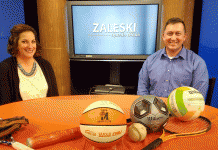 Hosts of Zaleski Sports Show Thankful for Support Covering everything from professional cornhole to Green Bay Packer football, student athletes to MLS soccer, the Zaleski...