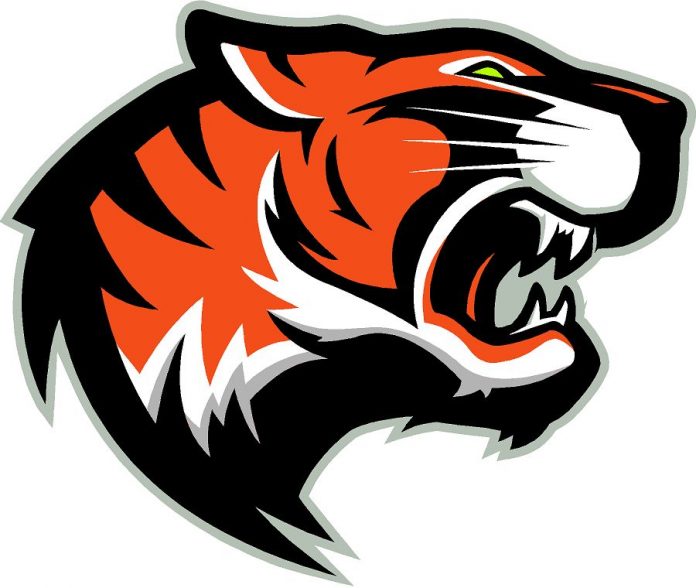 STRATFORD – The Stratford football team held on late with a blocked extra point to defeat Marengo (Ill.) 34-33 in a wild nonconference game at Tiger Stadium on Friday night.
Stratford won for the fourth-straight time and is now 4-1 this season.
The Tigers, ranked seventh in this week's Wissports.net Division 5 state coaches poll, hosts Rib Lake/Prentice in a Marawood Conference game Sept. 21 at Tiger Stadium. Both teams are 2-0 in the Marawood, one-half game behind 3-0 Edgar.
It was a game of big plays for both teams as Marengo had three touchdowns of 62 yards or more, while Stratford had two.
Kade Ehrike ran for a 12-yard touchdown before Marengo responded with a pair of 62-yard touchdown passes from Zach Trotz to Cole Davis.
Stratford regained the lead in the second quarter when Ehrike scored again from 4 yards out and Chase FLink ripped off an 84-yard touchdown to put the Tigers up 20-14 at halftime.
Marengo scored twice in the third quarter before Stratford came back again as Ehrike found pay dirt from 5 and 62 yards. Ehrike finished with 213 yards and four scores.
Marengo scored on a 1-yard run by Trotz, but the extra point attempt to tie the game was blocked and the Tigers held on for another victory.
Tigers 34, Indians 33
Marengo (Ill.) 14 0 13 6 – 33
Stratford 6 14 0 14 – 34
First Quarter
S – Kade Ehrike 12 run (kick missed).
M – Cole Davis 62 pass from Zach Trotz (Aaron Shepard kick).
M – Davis 62 pass from Trotz (Shepard kick).
Second Quarter
S – Ehrike 4 run (Ehrike run).
S – Chase Flink 84 run (kick missed).
Third Quarter
M – Trotz 1 run (Shepard kick).
M – Finnigan Schirmer 63 run (Shepard kick).
Fourth Quarter
S – Ehrike 5 run (two-point conversion failed).
S – Ehrike 62 run (Marten run).
M – Trotz 1 run (kick missed).
Team Statistics
First downs: Marengo 20; Stratford 26.
Rushing (att.-yards): M 34-203; S 52-371.
Passing (comp-att-yards-int): M 11-19-248-0; S 6-15-93-0.
Total yards: M 451; S 464.
Fumbles lost: M 1; S 0.
Penalties (no.-yards): M 3-25; S 3-15.
Individual Statistics
Rushing: M, Finnigan Schirmer 16-163, Zach Trotz 14-39, Cole Davis 4-1. S, Kade Ehrike 29-213, Chase Flink 3-88, Derek Marten 7-36, Matt Handrick 5-24, Devin Dennee 2-6, Max Schwabe 6-4.
Passing: M, Trotz 11-19-248-0. S, Schwabe 5-13-73-0, Chandler Schmidt 1-2-20-0.
Receiving: M, Davis 6-200, Aaron Shepard 2-22, Colton Lohff 1-15, Cade Nolan 1-11, Schirmer 1-0. S, Vaughn Breit 3-42, Marten 2-28, Ehrike 1-23.
Punting: M, Schirmer 2-40.0. S, Flink 3-44.0, Dahlke 1-40.0.
Records: Marengo 1-2; Stratford 4-1.