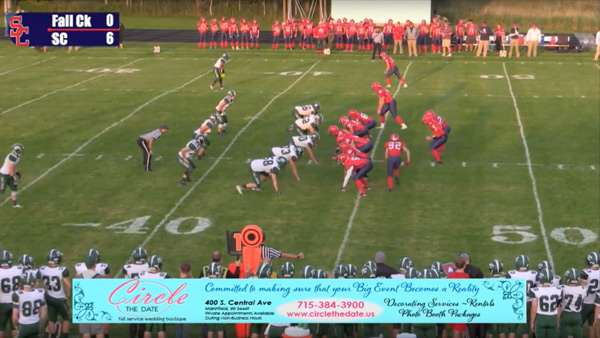 Spencer-Columbus Squashes Fall Creek
By Malachi David – The Rockets rode the momentum of a huge first quarter to an easy win over the Fall Creek Crickets on Thursday night.
The final score ended up being 44-21 in the Rockets' favor, but the game was not as "close" as the numbers suggest.
Watch highlights here:

The first quarter saw Spencer-Columbus score 31 points.
Hunter Luepke was almost untouchable for the Rockets. He rushed for 109 yards in the first quarter. He also had four touchdowns in the quarter. Two of those came on huge plays, a 44-yard reception and a 71-yard rush.
The Rockets other score in the first quarter was provided by Ethan Meece on defense. Meece was able to jump the route on a pass and return the interception 33 yards for the touchdown.
Luepke added another touchdown for the Rockets in the second quarter as they took a 37-0 lead before the half.
Hayden Bauman added a rushing touchdown in the second half to put the Rockets up 44-0.
Fall Creek was able to add a few touchdowns to the board as the Rockets put in their reserve players.
Ethan Ritger scored one touchdown for the Crickets and Reece Frase scored the other two.
The Rockets move to 2-0 on the season. Their next game is on Friday, September 1. They will travel to Stanley, to take on Stanley-Boyd. Kickoff is at 7:00 PM.