Mook Donates Made-From-Scratch Treats to Annual Police Memorial
For nearly two decades, Marshfield's Shirley Mook has been serving her homemade desserts at Marshfield's Peace Officer Memorial Day event.
Her relationship with those in public safety began during her time working at Cedar Rail in Marshfield, where she witnessed EMT's going above and beyond for the residents there. To show her appreciation, she baked an apple pie and delivered it to the department – something that soon became a regular tradition.
During one delivery, a police officer that happened to be at the fire department joked about wanting pie, too. Thus began Mook's cherished relationship with Marshfield Police Department – one that continues to this day.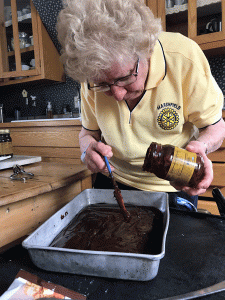 Since the 1980's, Mook has delivered pies to the department throughout the year and hosted a Christmas party at her historic Marshfield home every winter for officers and their families. With each passing year, she has enjoyed learning more about the department and, most of all, getting to know those who serve it.
"It was a way of saying 'thank you' to these guys because they became like family to me," she said.
In the early 2000's, Mook started making desserts for the annual memorial service held each year in May.
"In the early years, I remember I said to (now Lieutenant) Dennis Keffer, 'How many do you think I should make for?' He said 'oh 75,'" Mook recalled with a shake of her head. "They were all gone! I learned from that to make a lot more. From there on in, I have made for at least 120 or more."
Each year, Mook tries to create a new recipe, though there are a few favorites she returns to regularly, including her famous "Cherry Berries on a Cloud."
"My mind goes around almost all year trying to find a dessert that people will like. It varies from year to year," she said. "This year, I am making what I have titled 'Shirley's chocolate dessert' because this is my recipe that I have designed. Then I will make a raspberry dessert. Then I'm making an angel food cake because I know that there are a couple of officers that love angel food cake."
All of her desserts are made from scratch. "I wouldn't do it any other way," she said.
Now in her 80's, Mook enlists a helper for the memorial. Rachael Derfus, grandmother to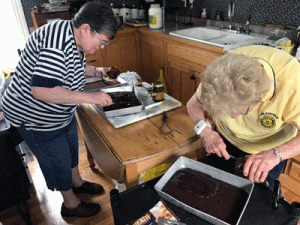 new department officer Mack Sheppler, assists in the kitchen. Friend Cindy Dischinger has also helped with transporting, plating, and serving.
Mook said she plans to keep making desserts for the men in blue for as long as she possibly can.
"These guys sacrifice themselves and they never know when they leave the house in the morning the kind of dangers they are going to go through," she said. "Baking is just my way of showing appreciation for all the things that they do."
When not baking pies or other desserts, Mook can be found at Marshfield History Museum, located in the lower level of the new Second Street Community Center (former Marshfield Public Library).