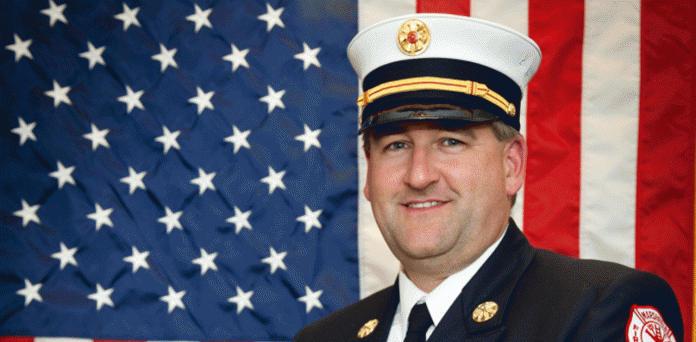 Owen Excited to Officially Begin Role as Fire Chief
Since his early days with Marshfield Fire & Rescue, Scott Owen has been working with the goal of one day becoming Chief. After three months as interim Chief after the retirement of Chief Bob Haight, on June 15, the City of Marshfield Police & Fire Commission officially named Owen as the next Chief for the department.
Having grown up in Cudahy (a suburb of Milwaukee), prior to his position with the City, Owen held positions within the 440th Air Force Reserve Fire Department and with Bell Ambulance in Milwaukee.
Originally planning to pursue a career in photography after high school, Owen attended a career event at Milwaukee Area Technical College that changed his plans.
"When I was in high school, I was big into photography, big into the yearbook. I developed all of our own pictures and spent a lot of time in the dark room developing area," he said. "Then I went to a career event at MATC and took three courses: Photography, Law Enforcement and Paramedic. In Paramedic, they performed some skills that I found to be fascinating and that hooked me. After that, I started looking into firefighting and the rest, as they say, is history."
Though he has no immediate family in protective service careers, Owen's second cousin Mark was influential as he went through schooling.
"He gave me one of his very first fire coats and I still have that today," said Owen. "Now he's enjoying retirement."
An EMT since 1990, Owen gravitated more toward EMS and firefighting than paramedic.
"Paramedic is fascinating. It's just something that never really came to be with me," he said. "But that's ok because I started focusing more on the fire side of it. I've really enjoyed the firefighting."
Owen joined Marshfield Fire & Rescue in July of 1996, starting as a Firefighter/EMT-Basic and receiving several promotions throughout the years, including Relief Deputy Fire Chief in 2001, Deputy Fire Chief- Shift Command in 2008, Deputy Fire Chief of EMS in 2013, and then Interim Chief in March of this year.
He holds an Associate Degree in Fire Science Technology from Milwaukee Area Technical College and a Bachelor of Science Degree in Fire Science from Columbia Southern University. He also holds multiple certificates, including Fire Officer I and II, Emergency Services Instructor I and II, Firefighter I and II, Fire Inspector, and Driver/Operator Certifications for Pumper and Aerial. He has begun working towards his Masters Degree in Emergency Services Administration.
Along with all of these accomplishments, Owen brings to the department a passion for helping people.
"I have always enjoyed helping people, and while it's cliche to say I got into this to help people, it truly is the reason I got into it," he said. "We tend to see people at their worst, whether on an ambulance call or a fire. We see them on the worst day that they are having. To me, it's important to do everything that we can to try and get them through that period of time and to help them."
In his career, Owen has experienced a wide variety of incidents, and in all of them his goal has been to help as much as possible.
"I've had to do CPR on a two-month old, all the way up to a 102 year-old. I've run the gambit," he said. "I've had to go on fatal car accidents, seen kids that have been killed. It's not easy. It's not for everybody. Not everybody could do this job. Those that do, they have something inside of them that says 'I wanna help'. That's me."
Owen is eager to serve as Fire Chief, something he has been working towards for decades.
"Ever since I got into firefighting, I've wanted to be a Chief. That was my ultimate goal," he said. "I'm very happy that the Commission chose me. I'm an internal member. I know the ins and outs of the department and I have a vision of where I want it to go."
During his three months as Interim Chief, Owen and department leadership have been extremely busy multi-tasking various duties. Now with promotions completed, the department is ready to really start making strides.
"I'm excited. I'm very excited," said Owen. "With the changes that are happening here right now, we are setting up the department from a leadership aspect for the next 10-15 years. From everyone that got promoted, we're setting the leadership team for the next decade plus."
Additional department promotions include Steve Bakos as the Deputy Chief of EMS, Jon Lucareli as Deputy Chief-Shift Command of the Green Shift, Troy Weiland as Deputy Chief-Shift Command of Red Shift, and Brian Barnes as Lieutenant on the Green Shift. Four new relief lieutenants include Jon Altman (blue shift), Joe Vanden Elzen (blue shift), Erik Jonas (green shift), and Jason Schad (red shift).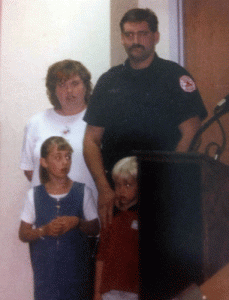 "Along with our two current reliefs, those individuals in particular are really right now the future leaders of the department," said Owen.
With this in mind, in the next six months one of Owen's goals is to create an internal officer development program.
"We've never had one here. It's always been something you had to do on your own. To me, that's not right," he said. "I'm going to try and use the tools I have available to me to create an officer development program in-house. Learning something as simple as the Microsoft Office Suite all the way up to running an incident and dealing with personnel. I want them to be able to experience what it's like on all levels and really prepare them for the future."
Along with officer development, another goal Owen has is to begin the accreditation process for the department.
"The accreditation evaluates how efficient the department is. It's third-party evaluators coming in to go through everything that we do: policies, utility, dispatch, etc…" explained Owen. "They look at everything and let us know how we meet national standards and what we need to do to improve. I think it's a worthwhile process, it's just very time consuming."
Addressing maintenance issues and developing an ongoing maintenance plan are other goals.
"Everything that I do here, I do with an end goal in mind and that's to improve not only myself but the department," said Owen. "It's about remaining fiscally responsible to the community, because we work for the community. Sometimes decisions that are made financially are not popular, but they are always done in the best interest of the City, taxpayers, and the department."
In his free time, Owen and wife, Julie, manage a small hobby farm complete with alpacas, llamas, goats, chickens, ducks, geese, and rabbits. He also enjoys flying his drone and hopes to one day pursue FAA certification.
Even these hobbies reflect a compassionate personality and an openness to technology, both qualities that Owen feels help him be the best chief he can be.
"I've been preparing myself for the chief position for many years," he said. "When Gregg Cleveland was chief, I went into his office and I said, 'Chief, what do I need to do to take your position?' Most people would never ask that of a chief, but I did."
Cleveland advised Owen to achieve his degrees, study, and experience as much as possible- advice that Owen took to heart and continues to do.
"It's something that even though I'm in this position, I'm not going to stop," said Owen. "For example, I'm going to the Wisconsin State Fire Chief Conference this week. Then, there's a leadership class that I'm looking to send all of the newly promoted deputies to in August. I'm going to go with another deputy to a policy-writing class. We have very good policies in place, but I want to make sure we're not doing something that we can't. These are just a few of the things I plan on doing myself."
Owen enjoys conversing with the public, and maintains an open door policy for his crew.
"If I have to talk with a bunch of different people throughout the day, that's fine," he said. "My job is making sure that everybody here is being taken care of so they can take care of everyone out there. I take care of the well being of this department. I do everything possible to make sure we are the best department we can be for the City of Marshfield."