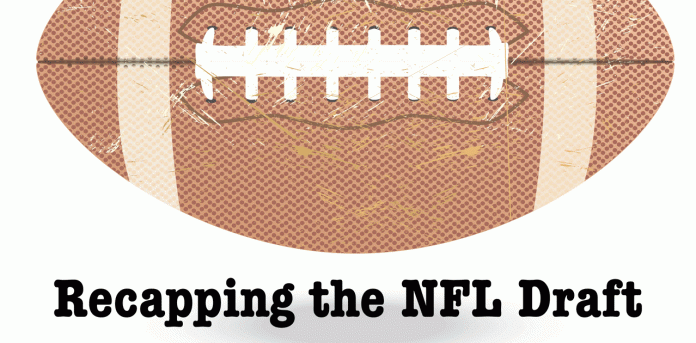 Recapping the First Round of the NFL Draft
by Malachi David
Thursday night kicked off the 2017 NFL Draft in Philadelphia, Pennsylvania.
The biggest question heading into the draft was whether the Cleveland Browns would select the consensus best player in the draft, Myles Garrett, or yet another quarterback, Mitch Trubisky.
Garrett spent his college career playing defensive end at Texas A&M, while Trubisky was a one-year starter at the University of North Carolina.
The Browns ended up doing what was deemed the best move in drafting Garrett. From that point on, the draft went a completely different route than most experts predicted.
The first round was expected to be filled with picks on the defensive side of the ball. The first surprise came right after the Browns pick as the Chicago Bears traded their third pick to the 49ers for the second pick. In addition to the third pick, the 49ers also got the 67th and 111th pick in this year's draft and a third-round pick in next year's draft.
All of those picks lead to the Bears drafting Mitch Trubisky.
From there, the draft continued to throw people for a loop as seven of the next ten picks were on the offensive side of the ball.
The Jacksonville Jaguars drafted Leonard Fournette, the running back from Louisiana State University (LSU), with the fourth pick in the draft. This was a pick that was not surprising, as the Jaguars look to take some pressure off of Blake Bortles and the passing game.
The man who set the NFL Combine record for the 40-yard dash, John Ross, was drafted ninth overall by the Cincinnati Bengals. They are coupling Ross' amazing speed with the all-around skill set of A.J. Green, who is one of the best receivers in the NFL.
The draft then took a turn towards defense after the Houston Texans drafted Deshaun Watson, the quarterback of the National Champion Clemson Tigers.
Two picks that spark interest in Wisconsin, were those by the Pittsburgh Steelers and New Orleans Saints.
The Steelers had the 30th pick in the draft, and with it they took T.J. Watt from the Badgers. There are both high praise and high criticisms of Watt. Some feel that he has the pedigree to become a great linebacker and be a defensive disruptor much like older brother J.J. On the other hand, many feel that all of the hype around Watt has to do only with who his brother is, and they think he will never be as good.
The other pick came at the end of the night as the Saints drafted former Badger, Ryan Ramcyzk. If you are unfamiliar with Ramcyzk on the Badgers, he also spent two seasons playing football for the UW-Stevens Point Pointers. Ramcyzk is a Stevens Point native and graduated from SPASH in 2013.
Below is the full list of teams and the players they drafted in the first round:
1. Cleveland Browns- Myles Garrett, DE, Texas A&M
2. Chicago Bears- Mitch Trubisky, QB, North Carolina
3. San Francisco 49ers- Solomon Thomas, DE, Stanford
4. Jacksonville Jaguars- Leonard Fournette, RB, LSU
5. Tennessee Titans- Corey Davis, WR, Western Michigan
6. New York Jets- Jamal Adams, SS, LSU
7. Los Angeles Chargers- Mike Williams, WR, Clemson
8. Carolina Panthers- Christian McCaffrey, RB, Stanford
9. Cincinnati Bengals- John Ross, WR, Washington
10. Kansas City Chiefs- Patrick Mahomes II, QB, Texas Tech
11. New Orleans Saints- Marshon Lattimore, CB, Ohio State
12. Houston Texans- Deshaun Watson, QB, Clemson
13. Arizona Cardinals- Haason Reddick, OLB, Temple
14. Philadelphia Eagles- Derek Barnett, DE, Tennessee
15. Indianapolis Colts- Malik Hooker, FS, Ohio State
16. Baltimore Ravens- Marlon Humphrey, CB, Alabama
17. Washington Redskins- Jonathon Allen, DE, Alabama
18. Tennessee Titans- Adoree' Jackson, CB, USC
19. Tampa Bay Buccaneers- O.J. Howard, TE, Alabama
20. Denver Broncos- Garrett Boles, OT, Utah
21. Detroit Lions- Jarrad Davis, LB, Florida
22. Miami Dolphins- Charles Harris, DE, Missouri
23. New York Giants- Evan Engram, TE, Mississippi
24. Oakland Raiders- Gareon Conley, CB, Ohio State
25. Cleveland Browns- Jabrill Peppers, S, Michigan
26. Atlanta Falcons- Takkarist McKinley, OLB, UCLA
27. Buffalo Bills- Tre'Davious White, CB, LSU
28. Dallas Cowboys- Taco Charlton, DE, Michigan
29. Cleveland Browns- David Njoku, TE, Miami
30. Pittsburgh Steelers- T.J. Watt, OLB, Wisconsin
31. San Francisco 49ers- Reuben Foster, ILB, Alabama
32. New Orleans Saints- Ryan Ramcyzk, OT, Wisconsin