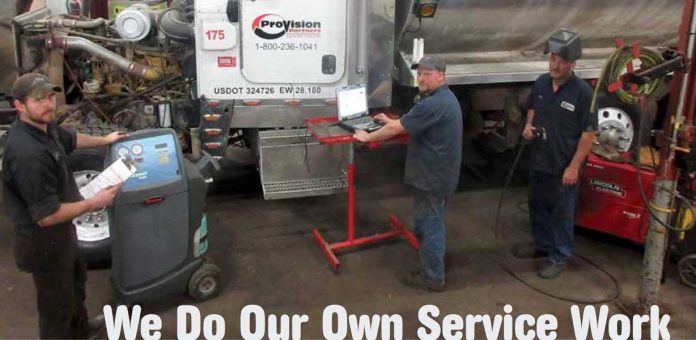 You've likely seen ProVision's trucks on the highways and backroads. But, you've probably never thought about where they are serviced or who makes sure they are running safely. These trucks are hauling feed, fuels, grain and agronomy products over a vast market area daily. It's my top priority to ensure they are in top working condition to minimize the risk to our employees and those they share the road with.
ProVision Partners has its own six-bay fleet maintenance shop in Colby, where I and six other well-trained, knowledgeable technicians service almost everything within our fleet of over 350 units. Each technician is just as picky as I am about making sure our vehicles are working well and operating safely when we put them back on the road.
The shop was once an International® truck dealership. Harmony Country Cooperatives purchased it back in 1997. They converted part of it to a Cenex C-Store, added fuel pumps out front, offices in back and used the shop area for their own fleet maintenance. Having the ability to service our own fleet saves the company tens of thousands of dollars every month. In turn, those savings trickle down to our customers. Not only does it save money but it also lessens expensive downtime and warrants us the ability to prioritize the order equipment is fixed in. We know what can wait and what is high priority.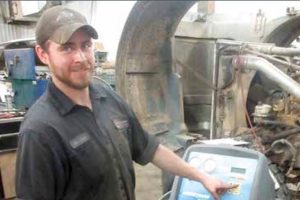 I've been here 18 years. When I started, it was just me and one other person doing the service work. Over the years, we saw steady growth as the fleet increased in size. However, when Harmony and CWC merged 18 months ago, the fleet more than doubled in size. This caused a great need for more highly skilled technicians and fabricators. Our employees
stay busy repairing, overhauling, assembling and modifying the 350-plus pieces of equipment used to serve the customers of ProVision Partners. Besides 200- plus heavy trucks and vehicles, we work on skid-steers, fork lifts, wranglers, fertilizer spreaders and spray equipment. We do everything on the fleet equipment—even air conditioning, windshield repair and DOT inspections. The only thing we don't do at Colby are alignments.
We are always looking for talented people to work in the shop especially those who have experience in heavy truck repair and the technology that's in them. Our trucks are high-tech machines. Almost everything is controlled by electrical sensors connected by wires to computers. Hardworking, highly skilled people with a knack for technology are who I'm looking for. In fact, I'm most interested in technicians with dealer-level experience, with or without a formal degree, looking for a challenge. That's my most sought-after candidate. In finding the right people, we will soon be able to expand to a second shift. I can't stress enough the value of the fleet maintenance shop to the co-op and its members. It's huge. If we had to take our trucks to an outside shop, we'd be paying $10 per hour plus environmental fees. Of course, we pay our employees well and we offer great benefits. We just do this by cutting out the middle man and saving on those big mark ups. It's not nearly as expensive to run our own shop as it is to have our vehicles and equipment maintained and repaired elsewhere. In addition to the overall labor rates, there's the savings on parts. Because of the size of our fleet and volume of parts we purchase, we are able to buy direct and receive additional discounts based on our buying power. These are extra savings we wouldn't get if we outsourced the work.

As mentioned earlier, the other big bene t is the ability to prioritize our work to the needs of our departments and customers. Say we have a truck down that is needed to deliver and we can't afford to be without it for long. We can put that truck ahead of others to make sure it gets back on the road serving our customers as fast as possible. With an outside shop the rule is "first in first out". We would be forced to wait our turn and our service to the end customer could suffer.
We also take the time to be more thorough at ProVision's Fleet Maintenance Shop. We go out of our way to check each unit over bumper to bumper. If we're working on a truck and see something that needs attention, we'll do it. At a dealership, they only do what you ask. If they find additional problems, many times the truck has to be scheduled back at a later date. This is part of our commitment to safety and making sure we get the most out of our equipment.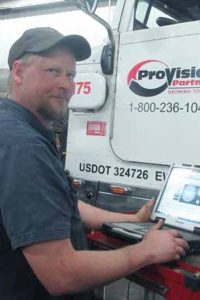 I like to think we're keeping nice equipment on the road for our customers longer and at a lower cost while controlling turnaround time. But to me, the most important thing is safety. With over 200 vehicles on the road daily, ProVision assumes a lot of risk. That is why I take my job of ensuring vehicles are safe every time they roll out of the shop very seriously.
Many of the farms and homes we deliver to have children living there. And, with their natural curiosity, kids want to see what's going on. At times, this can pose a danger. As the manager of ProVision's fleet, I know each truck we service has a working backup alarm to warn children. It also has working lights and all the other safety features necessary to keep our customers, their families and our employees safe, as well as our partners on the roads.
That's important to me because my family uses those same roads, too. I want to make sure every piece of ProVision equipment leaves our shop as a well-maintained, safe vehicle that I'd feel comfortable having my family share the road with.