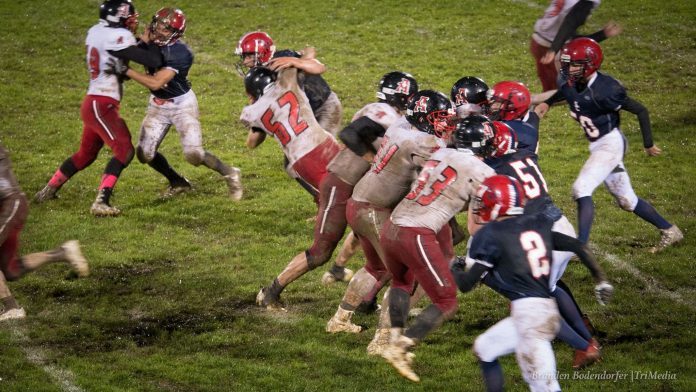 The WIAA has released their playoff seedings and brackets for the 2017 playoffs.
Starting in Division 2 where the Marshfield Tigers have been awarded a #5 seed and will travel to take on #4 seeded Holman. Holman finished in a three-way tie for first place in the Mississippi Valley Conference title with Onalaska and West Salem.
In Division 5, Spencer/Columbus awarded a #3 seed and they will host a level one playoff game against #6 seeded Oconto who finished second in their conference and had only two losses on the year.
Also in Division 5 Stratford is also in this group and is the #5 Seed, they will travel to take on Bonduel, who finished second to #2 seed Amherst in the Central Wisconsin Large Conference. A win by Stratford could set up a rematch of their week one game against Stanley-Boyd which Stratford lost 21-14.
Staying in Division 5 Colby is also in this group and is the #7 seed and travel to take on #2 seeded Amherst, Amherst as stated before the champions of the Central Wisconsin Large Conference, and have only one loss on the season to Division 6 power Fond du Lac St. Mary's Springs.
Division 6 sees Auburndale getting the #6 seed and making the trek to #3 seeded Crandon. Crandon the champions of the MONLPC-Small conference only loosing to Cloverwood power Abbotsford and Division 5 qualifier Wittenberg-Birnamwood.
Also in Division 6 the Marathon Red Raiders get a #2 seed and will host Niagra/Goodman/Pembine.
In Division 7 we start with the Edgar Wildcats, unsurprisingly getting the #1 seed in their group, they will host #8 Athens, who were 3-6 on the year.
Also in Division 7, Pittsville is in the same group, they are the #4 seed and will host #5 seed Wisconsin Rapids Assumption. Assumption went 6-3 in the Cloverwood.
Loyal is the #2 seed in another group in Division 7, they take on conference rival and #7 seed Owen-Withee. Loyal beat Owen-Withee in Week 5 46-20.
Staying in that group in Divison 7 Abbotsford gets the #3 seed after losing to Loyal in Week 9. They take on Fredric. Fredric finished the season 3-6 but make the playoffs based on their 3-3 conference record.
Full brackets can be found at wiaawi.org