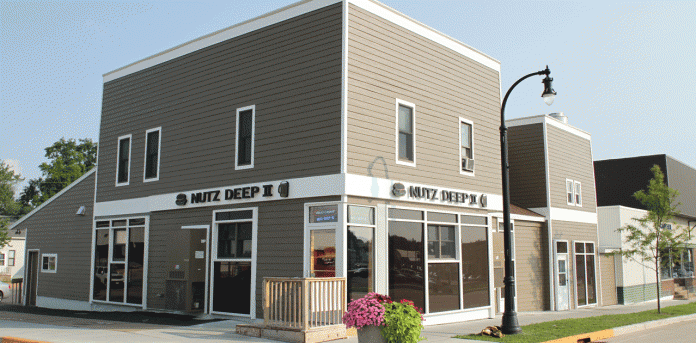 Marshfield Area Chamber of Commerce (MACCI) Small Business of the Year is Nutz Deep II
Each year, Marshfield Area Chamber of Commerce & Industry (MACCI)'s Small Business Council accepts nominations for Small Business of the Year. Late last month, Nutz Deep II was named the 2017 recipient.
General qualifications for the award include having been a business enterprise for at least five years, employing 39 or fewer full-time equivalent individuals, and being a MACCI member.
Businesses are selected based on economic impact on the community (employment growth), expansion of business in facility or products/services (business growth), longevity/continuity with consistent growth over time, community involvement, and innovation.
"MACCI is proud to recognize Nutz Deep II throughout the year and will honor them at breakfast in early May," said Debbie Bauer, Bauer, MACCI Program Director.
"Small businesses contribute to local economies by bringing growth and innovation to our community in which the business is established, added Bauer. "Small businesses help stimulate economic growth by providing employment opportunities to people who may not be employable by larger corporations. Small businesses also attract talent who invent new products or implement new solutions for existing ideas."
A business for 35 years, Nutz Deep II is always seeking new and exciting ideas, and for ways to make their business and employees better.
"We do many things to support the community, whether it is our Nutz Deep II Gives Back fundraising program, Run Your Nutz Off, the Dairyfest Beer Garden that we host, or various sponsorships or donations, we are always willing to help the community if we are able," said Lisa Schutz, owner of Nutz Deep II.
Nutz Deep II is also very involved in the City of Marshfield, with owner Dewey on the BID Board. Manager Ann Dieringer is on Main Street Marshfield Board of Directors, a MACCI Ambassador, a Dairyfest Steering Committee member, and is a Marshfield Young Professionals member.
"The reason I feel that we won this award is because of who we are and what we do in this business, and for our community. Being a family-owned business we know that hard work and dedication is the only way that you are going to succeed," said Schutz. "A well-trained and dedicated staff also aid in our success."
Surprised by the honor, Schutz is excited to be the 2017 MACCI Small Business of the Year.
"The outpouring of support and kind words has been extraordinary and we are so grateful and to be honest sometimes I am at a loss for words for the gratitude I feel," said Schutz.