Varsho 68th Pick in MLB Draft
by Malachi David, Photos by Don Patterson
Many kids who grow up playing sports have aspirations of becoming a professional athlete. However, very few are able to ever reach that goal.
Daulton Varsho took a huge step towards that goal on Monday night.
Varsho was drafted with the 68th pick in the MLB draft. The Arizona Diamondbacks were the team that selected him.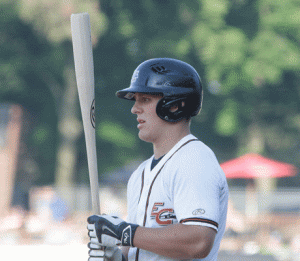 While being picked in that spot, Varsho became the highest drafted player ever out of the University of Wisconsin- Milwaukee.
Varsho has been putting up some great numbers for both UW-Milwaukee and the Eau Claire Express.
Last summer Varsho batted .321 and hit 15 homeruns for the Express. This past year at UW-Milwaukee, Varsho added 11 homeruns while batting .362.
According to Michael McDermott, scouting writer for the Diamondbacks SB Nation page, the biggest upside of Varsho for Arizona is his batting ability. There is still some questions as to whether or not he will continue playing catcher or potentially make the shift to outfield.
No matter where Varsho plays, he has the skills necessary to eventually make it to an official Major League roster. After all, baseball runs in the family. Daulton's father, Gary Varsho, was drafted to the MLB in 1982. He played for four teams throughout an eight-year career. Daulton's sister Andie was also a star softball player at Marshfield High School and Purdue University.
Varsho is expected to hammer out the details of his contract this week with the Diamondbacks. From there the journey towards the MLB begins.