Two MU Representatives Help Florida Utility Companies in Hurricane Aftermath
As Category 5 Hurricane Irma left a trail of destruction in her wake, millions of residents of Florida were left without power.
Providing mutual aid support to those impacted, thirty-eight linemen and three tree trimmers from twenty different Wisconsin Municipal Electric Utilities have responded to the call for help, including Jim Seefluth and Robert Olwell from Marshfield Utilities (MU).
"Many of those responding met in Beloit Wisconsin on Friday September 8th at noon heading for Kissimmee, Florida located about a half hour south of Orlando," said Nicolas Kumm, Electric, Communications & Gas Manager. "They arrived in Kissimmee late on 9/11/17. They needed to wait for the hurricane to pass and the winds to die down along the way. Also, traffic yesterday was bumper to bumper starting north of Orlando."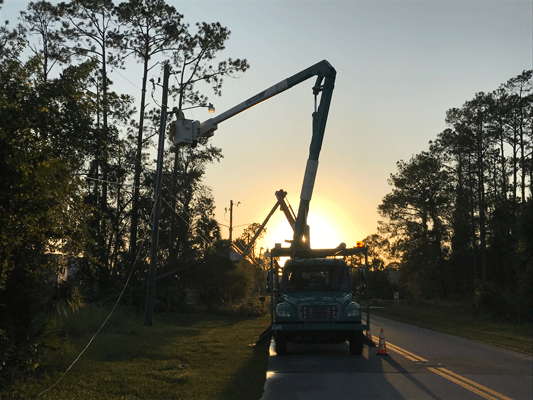 As of late Wednesday evening, Kissimmee's power grid is nearly 100% restored and the crews are now transferring to Homestead, Florida. Here they will continue working to restore electric power by rebuilding the electric distribution system that was damaged by the hurricane, which includes removing trees and other debris, and installing new poles, wires, transformers, and related material.
"It is important to help restore power to the communities in Florida so the residents can begin to rebuild their homes, businesses and communities," said Kumm. "The return of basic essentials will help those impacted to move towards returning to life as near normal as possible."
MU committed many years ago to providing mutual aid support if resources are available through an agreement with APPA (American Public Power Association). The planning and staging for support starts as soon as the potential for devastating hurricanes/storms begin to develop (usually a week or so before the hurricane will make landfall).
In the State of Wisconsin, MU is represented by MEUW (Municipal Electric Utilities of Wisconsin), which works with APPA (American Public Power Association) on a national level to coordinate efforts to ensure timely and efficient use of resources to support mutual aid events for municipal/public power electric utilities.
The DOE (Department of Energy) monitors the efforts of all electric utility types (municipal/public power, investor owned, and cooperative utilities) during these type of situations.
Helping other community-owned municipalities is an important cause for MU, which has previously sent crew members to Florida in 2004 for hurricanes Frances and Jeanne and to Pennsylvania & New Jersey in 2012 for hurricane Sandy.
"There are more than 2,000 U.S. community-owned municipal/public-power electric utilities across the United States. We are a large family that helps in time of need," said Kumm. "You never know when your community may be in need of the help."
At this time, Kumm estimates crews will be working for multiple weeks restoring power before returning home.