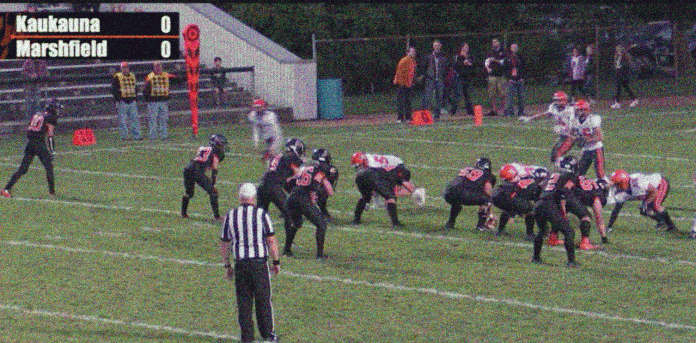 Marshfield Tigers Beat Kaukauna
By Malachi David – The Tigers hosted the Kaukauna Galloping Ghosts Friday night in Wisconsin Valley Conference play.
The Tigers came out victorious with a 27-14 win.
The night started out on a sour note as Ryan Krueger, the Tigers quarterback, threw an interception on his first pass.
Marshfield and Kaukauna went back and forth in the first quarter with neither team giving way. The Tigers finally got on the board with an 18-yard pass from Krueger to Isaiah Baierl. The Tigers attempted a two-point conversion and failed.
Marshfield would come back and score again as Krueger threw his second touchdown pass of the night. This time he broke away from a sack and put a ball over a defender to his receiver Duncan Swanson. This put the Tigers up 13-0.
The Tigers would find the endzone a third time in the first half as Krueger threw his third touchdown. Krueger ran a play-action and rolled to his left as he fired the ball towards the endzone. The pass was intended for Isaac Meverden but was tipped in the air. As the ball came down, Colin Fravert dove in to make the catch for the 25-yard touchdown.
Kaukauna scored just before the half as running back Tyler Froehlich ran for a three yard touchdown.
Kaukauna would strike again in the fourth quarter as quarterback Noah Van Asten would complete a 28-yard touchdown pass to Mason Van Zeeland.
The Tigers would put the game away on the first play after the kickoff as Krueger pulled out his best Aaron Rodgers impression.
Krueger faked a handoff and looked to pass. He broke one sack attempt and sidestepped another as he took off up the middle of the field. Another broken tackle, and Krueger was able to score from 65 yards out to put the Tigers up 27-14.
Krueger finished the night with eight completions on thirteen attempts, three touchdown passes, one rushing touchdown, and two interceptions. Krueger also cleared 100 yards in both passing and receiving.
Defensively, the Tigers were led by a trio of seniors in Jon Howlett, John Reigel, and Jared Johnsrud. They combined for 24 tackles and disrupted much of what Kaukauna was trying to do. Howlett and Johnsrud were constantly in the backfield and Reigel provided a lot of run stop support.
The Tigers are now 2-2 and will travel to Stevens Point next Friday. Kaukauna falls to 1-3 and travels to Oshkosh West.