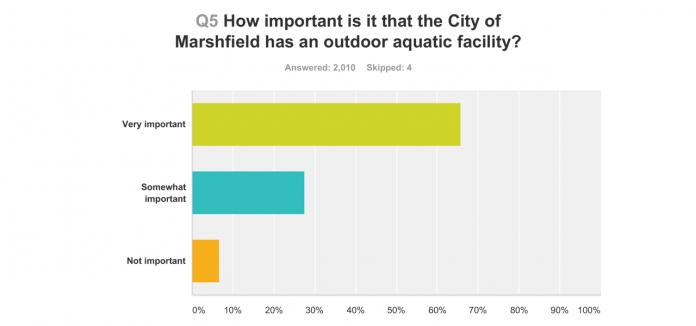 Marshfield Pool Study Survey Results
In fall 2016, the City of Marshfield organized a committee to review the future of Marshfield's Hefko Pool. In the past week, the committee conducted a study to which more than 2,000 people responded.
Not meant to be scientifically valid, rather the intention of the survey was to engage and inform the community about the pool project. It also serves as an extension of the public information meeting that was held in December about the project. (Fewer than 20 people attended the public information meeting.)
The survey results were discussed at Thursday's meeting of the Pool Study Committee.
Survey Results Highlights:
More than 50% of respondents noted that they travel outside the City of Marshfield 1-5 times per year to visit an aquatic facility.

The majority of people (65.77%) felt that the City of Marshfield having an outdoor aquatic facility is "very important".

1,530 people (76%) responded that they are "very likely" to visit the facility upon completion.

85% of the respondents said that $6 Million is an acceptable cost for a new aquatic facility

86% of respondents think the current location is good.
For the complete survey results, please see the attachment below.
1-12-17 Pool Study Survey Results