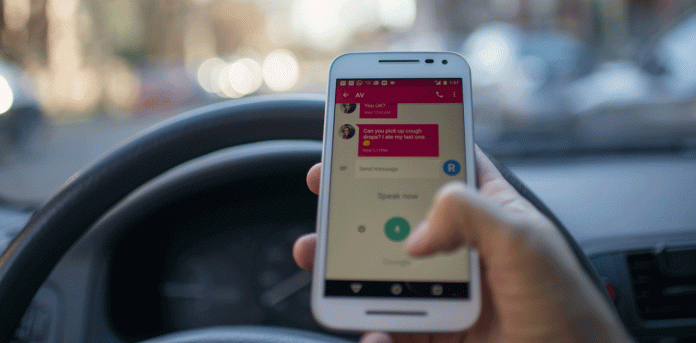 Marshfield Ordinance Forbids Cell Phone Use While Driving
Distracted driving is dangerous driving and for some it is deadly driving. The month of April is Distracted Driving Awareness Month, and in the age of smartphones, it's important to reflect on behind-the-wheel habits and review the local laws about cell phone use in the car.
Marshfield's city ordinance prohibits the use of cell phones in any capacity while operating a motor vehicle if not using a hands-free device. This includes dialing and answering a call, talking or listening on the phone, and sending or reading a text message. The full ordinance can be viewed below.
"Driving on its own requires multitasking. To add one more thing to that can be a challenge," said Rick Gramza, Chief of Police. "We've cited people for inattentive driving because they crossed the centerline or caused an accident while shaving, putting makeup on, and eating. Being on the phone is no different."
Any action that distracts a driver from paying attention to the road puts others at risk and can escalate quickly into a dangerous situation. "All it takes is one individual to cause an accident," Gramza said. "Or maybe you're talking or texting on your phone when someone else crosses the line. You could fail to defensively react to a situation if your attention isn't fully on the task at hand."
The ordinance is separate from the state laws, which allow cell phone use for fully-licensed drivers except in construction zones. Similarly, Wisconsin state laws prohibit any texting while driving.
"You can't be on your phone without a hands-free device in Marshfield," said Gramza. "You can't be texting on your phone or on the internet anywhere in the state."
Despite the risks, the department often sees drivers texting. "It's very common," he said. "It's difficult to see sometimes when you're in a fully marked squad. If we're in an unmarked, we see it all over the place and enforce it accordingly."
Those who spot a driver texting can report it to the Police Department (715) 387-4394, and a warning could be issued based on the information.
"We could call the individual and say, you were texting at this location at this time, and use it as an educational opportunity," said Gramza. "Lives are at stake, that text message or phone call is not worth the risk. Pull over and use your phone before your life or someone else's is changed forever."
Read the Municipal Code here: