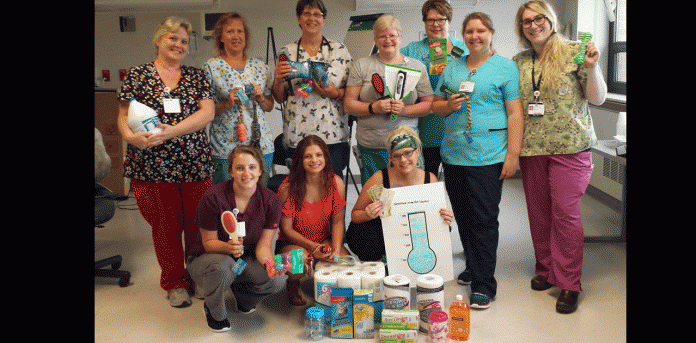 6 North Raises Funds, Collects Supplies for Marshfield Area Pet Shelter
The staff on the 6th floor at Marshfield Medical Center recently hosted their own fundraiser for Marshfield Area Pet Shelter. A group on the floor called the "Culture Committee" is dedicated to devising employee-contributed ideas to help others.
"Every month we find a project that we can do together to reach a goal," said Melissa Cooper, Certified Nursing Assistant on 6 North and one of three committee members. "As a group we sat down agreed on my suggestion that this fundraiser for MAPS would be a great opportunity for us to come together to reach a common goal."
Certificates were hung throughout the halls of 6 North, encouraging people to donate and collect supplies for the nonprofit, to help them reach their goal of $500.
"It feels great to be able to come together to make a difference in a number of animals lives, that otherwise may not be able to get as good of care as they can now," she said. "It brings us closer together, helps the animals have a better life and puts the shelter a little more at ease with the donations of money and supplies."
Surpassing their goal, 6 North raised $505 for MAPS and collected a large amount of supplies such as dog food and cat litter. To celebrate their accomplishments, they held a potluck on the floor and invited Marshfield Area Pet Shelter President Karen Rau to attend and accept the donations. For all, the fundraising was not only an effort to help the community, but also a way to foster stronger work relationships.
"It's very important to have a company work together, especially a team that has to work together daily, like 6 North, or any other floor in the tower," said Cooper. "These opportunities give us the strength to work together better in the future, to provide continuously improved care for the patients at Marshfield Medical Center."
Cooper is grateful for the opportunity to help the community.
"6 North would like to thank MAPS most of all for giving us the opportunity to work together as a team to give back to the community," she said. "For our next project, we will be collecting all donations of school supplies for those in need. Can't wait to see where that goes!"
Marshfield Area Pet Shelter is a 501(c)3 nonprofit organization.