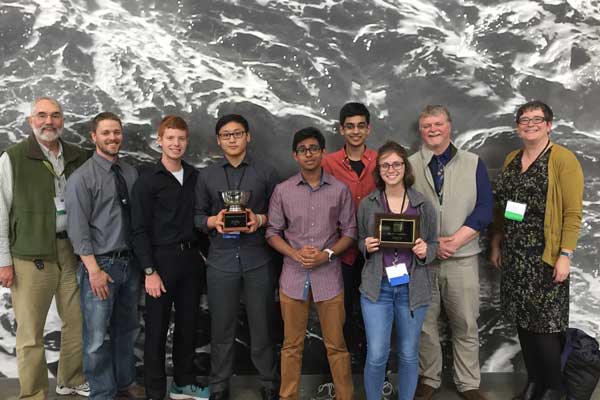 Marshfield High School's Ocean Science Bowl Team Takes Second
Marshfield, WI | Marshfield School District
Marshfield High School's Ocean Science Bowl Team recently competed at the National Competition in Coravllis, Oregon and finished in second place after winning eight straight matches to get to the final round. The team consisted of Emma Raasch, Suhaas Bhat, Muhammad Abidi, Carter Chojnacki and David Gui. The School District of Marshfield's staff, students and families are very proud of this group for the positive representation of Marshfield High School.
By placing 2nd overall, the students won a week-long trip to the Jersey shore this summer. Team members will visit the Jacques Cousteau National Estuarine Research Reserve, experiencing their varied terrestrial, wetland and aquatic habitats. They will also spend time at Monmouth University, which calls itself the 'coastal university,' with a campus located within a mile of the Atlantic Ocean and in close proximity to a number of estuarine and terrestrial ecosystems.
Photo Provided Courtesy of Marshfield School District: Jim Lubner(Wisconsin SeaGrant-retired), Dean McFarlane(Assistant Coach), Carter Chojnacki(soph), David Gui(Jr), Suhaas Bhat(soph), Muhammad Abidi(soph), Emma Raasch(sr), Paul Herder(coach) Liz Sutton(Regional Coordinator of Lake Sturgeon Bowl).