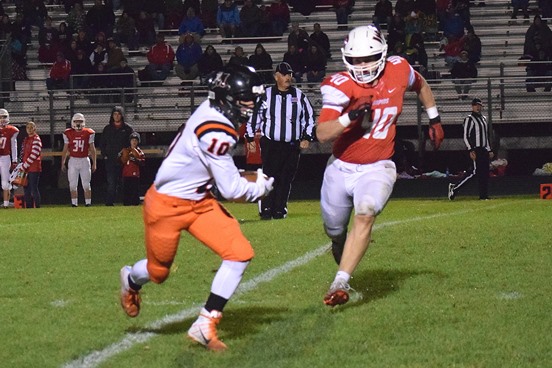 WISCONSIN RAPIDS – The Marshfield football team's offense possessed the ball eight times in Friday's Valley Football Association West Division game against Wisconsin Rapids. Seven times, the Tigers scored touchdowns.
Marshfield walked out of South Wood County Field at Lincoln High School with a decisive 52-18 victory to run its record to 6-0 overall and 5-0 in VFA West, clinching no less than a share of the conference title for the second-straight season.
Caden Pearce had a 54-yard touchdown run and Brant Bohman scored three times for the Tigers as the offense was nearly unstoppable.
"We moved the football team and were kind of a potent team out here," Marshfield coach Denny Goettl said. "The kids have really bought in to being together and playing together, I just love it. The closer you get, the better you become."
Wisconsin Rapids scored on its first two drives to make it look like the game would be a shootout.
Nash Coombs capped a 12-play, 80-yard drive on the opening possession of the game with a 1-yard touchdown run on fourth down, giving the Raiders (2-4, 1-4 VFA West) an early 6-0 lead.
Marshfield responded with a 61-yard scoring drive and Bohman ran in the from the 13 to tie it, and a two-point conversion run by Pearce made it 8-6.
Rapids then embarked on another 80-yard scoring drive that chewed up the final 3:10 of the first quarter and the first 1:14 of the second. Quarterback Austin Pelot connected with Dylan Lisitza for a 5-yard touchdown pass to give the Raiders a 12-8 lead.
After a solid kickoff return for the Tigers, Pearce raced 54 yards on the first play for another score and Isaiah Baierl ran in for two giving Marshfield a 16-12 lead.
Wisconsin Rapids fumbled the kickoff with Marshfield's Nolan Hertel recovering, but for the only time in the game, the Tigers' offense was turned away after missing on fourth-and-2 by just a few inches at the Raiders' 14.
The game may have turned on the next play when Pelot was injured after scrambling on the Raiders' first play. Rapids went three-and-out and the Raiders wouldn't score again until mop-up time late in the fourth quarter.
"We're a small team and there are some big guys over there (for Wisconsin Rapids)," Goettl said. "They have some guys that can make some plays, and they're a good football team. It's a big deal when your quarterback goes down and that helps us out a lot. We just have to keep our reads in front of us, and our defensive ends and linebackers were out there making plays."
Marshfield put up touchdowns on its final five possessions.
Ryan Krueger threw a 10-yard touchdown pass to Bohman with 3:35 to go before halftime, Bohman added TD runs of 1 and 9 yards in the third quarter, and Mason Coffren scored from 4 and 2 yards away in the fourth quarter as the Tigers won going away.
Marshfield will celebrate its homecoming next Friday, Sept. 28, against Oshkosh North. The game, at Beell Stadium, begins at 7 p.m. and will be live-streamed on zaleskisportsshow.com and broadcast on WDLB-AM 1450 and wdlbwosq.com.
Tigers 52, Raiders 18
Marshfield 8 16 14 14 – 52
Wisconsin Rapids 6 6 0 6 – 18
First Quarter
WR – Nash Coombs 1 run (kick missed), 5:46.
M – Brant Bohman 13 run (Caden Pearce run), 3:10.
Second Quarter
WR – Dylan Lisitza 5 pass from Austin Pelot (pass failed), 10:46.
M – Pearce 54 run (Isaiah Baierl run), 10:27.
M – Bohman 10 pass from Ryan Krueger (Isaac Meverden pass from Krueger), 3:35.
Third Quarter
M – Bohman 1 run (Mason Coffren kick), 8:07.
M – Bohman 9 run (Coffren kick), 3:41.
Fourth Quarter
M – Coffren 4 run (Coffren kick), 7:54.
WR – Coombs 9 run (kick missed), 3:46.
M – Coffren 2 run (Coffren kick), 2:04.
Team Statistics
First downs: Marshfield 16; Wisconsin Rapids 17.
Rushing (att-yards): M 36-330; WR 31-148.
Passing (comp-att-yards-int): M 9-13-90-0; WR 18-26-190-0.
Total yards: M 420; WR 338.
Fumbles (total-lost): M 1-0; WR 2-1.
Penalties (no.-yards): M 4-36; WR 10-94.
Punting (no.-avg.): M none; WR 3-23.3.
Individual Statistics
Rushing: M, Bradley Dickinson 2-79, Caden Pearce 8-76, Brant Bohman 10-56, Isaiah Baierl 3-42, Mason Coffren 5-26, Malachi Fyksen 2-17, Ryan Krueger 4-14, Simon Baity 1-14, Sam Hinson 1-6. WR, Nash Coombs 22-139, Peter Rucker 3-17, Austin Pelot 1-6, Owen Greening 3-1, Austin Hensley 2-minus 13.
Passing: M, Krueger 8-10-81-0, Will Voss 1-3-9-0. WR, Pelot 9-9-87-0, Hensley 9-17-103-0.
Receiving: M, Bohman 2-17, Joey Goettl 2-17, Isaac Meverden 1-20, Pearce 1-18, Baierl 1-9, Brandon Berg 1-9, Preston Wagner 1-0. WR, Dylan Lisitza 8-120, Samuel Wallner 6-44, Nathan Schooley 4-26.
Fumble recoveries (defense): M, Nolan Hertel.
Punting: M, none. WR, Lisitza 3-23.3.
Records: Marshfield 6-0, 5-0 Valley Football Association West Division; Wisconsin Rapids 2-4, 1-4 Valley Football Association West Division.
Paul Lecker is publisher of MarshfieldAreaSports.com and a contributor to focusonmarshfield.com.