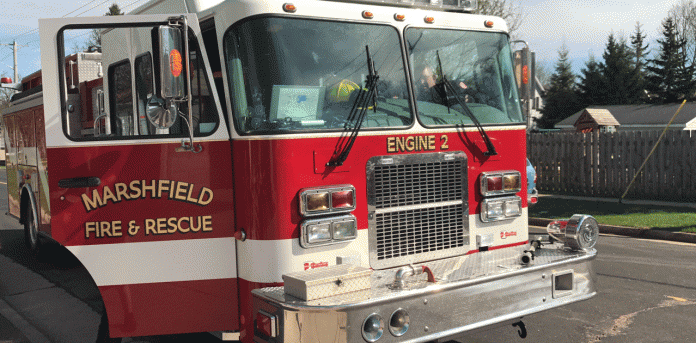 Sign Up Available Online
Keeping up with the Marshfield Fire and Rescue Department is easier than ever thanks to its new quarterly newsletters, designed to keep the public informed on department events, activity statistics, safety tips, and more.
The newsletters originally came out of a need to communicate better within the department.
"When I became chief of the MFRD, one of the items that was discussed was the need to improve communications within the organization," said Chief Scott Owen. "Internally, this has happened and was fairly easy to accomplish. We have a variety of meetings throughout the month to help keep all department members on the same page."
An internal newsletter was attempted in late 2016 but was short-lived, ending in early 2017. "It was a good idea, and the primary reason it was not successful in my opinion was because we are a small organization and we typically know what is going on within the station," he said.
While the station itself didn't need a newsletter, efforts by the department to connect with the community saw the rebirth of the idea.
"Over the last year we have significantly increased our social media presence as well as the number of articles for the local news outlets," Owen said. "One of the areas I felt we were still struggling with is letting the community know what is happening within the fire department. I did some research and found other departments that were doing community newsletters and thoughts it might be a good fit for our department in our community."
The department released their first in late 2017, and the first quarter 2018 newsletter can be found at this link.
"We have published two newsletters so far and have received very positive feedback on them," said Owen. "Based on that feedback, we plan on continuing with the newsletter and hope that many, many more citizens sign up to receive it."
Individuals can find the newsletter on the city webpage and sign up to receive one directly through the department Facebook page. Sign up will be available soon on its website as well.
Currently, the department is exploring ways to distribute copies for those without access to the internet or email.
"I am very excited about this newsletter and sharing what we are doing in the department for the community," said Owen. "We have so much going on that we want to share that the newsletter might change from quarterly to bi-monthly (every 2 months)."