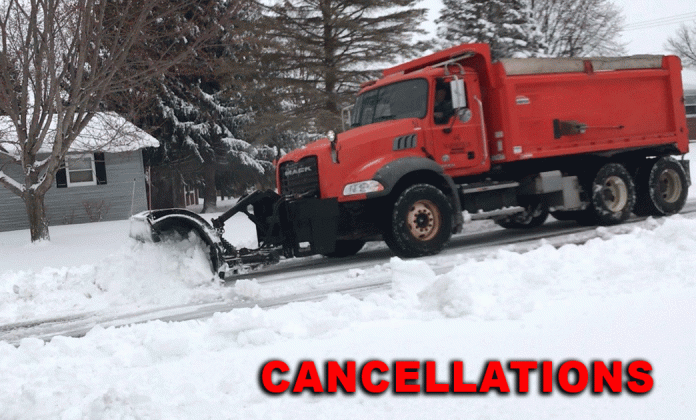 Cancellations Due to April 14-15 Snow Storm
Saturday, April 14th
ACT testing has been cancelled for today at UW Wood County.
Immanuel Lutheran in Hewitt – Saturday night services and activities are cancelled
Marshfield High School Drama Club production  – postponed to Friday, April 20
Lutheran Women's Missionary League Rally that was to be held Saturday at Zion Lutheran Church in Granton has been postponed until next Saturday the 21st.
Spring Fling at Bakerville Bar (Marshfield) with Boogie and the Yo Yo'z
The Everyday Wellness Empowering You program at Marshfield Clinic has been cancelled.
Wood County 4-H Creative Arts Day scheduled for Saturday at Pittsville has been cancelled.
Sunday, April 15th
CHURCH SERVICES/ACTIVITIES
Calvary Bible Marshfield- all services and activities cancelled
Center City Church Marshfield  – all services and activities cancelled
Christ Lutheran Church (14th Street, Marshfield) – all services and activities cancelled
Christ Lutheran Church (Chili, WI) – all services and activities cancelled
Columbus Catholic School Concerts – cancelled, rescheduled date TBA
Cornerstone Community Church (Marshfield) – all services and activities cancelled
Corpus Christi Catholic Church (Marshfield)  – all services and activities cancelled
Faith Fellowship Marshfield – all services and activities cancelled
Faith Lutheran Church (Marshfield) – all services and activities cancelled
First Presbyterian Church (Marshfield) – all services and activities cancelled
Good Shepherd Lutheran Church (Marshfield) -all services and activities cancelled
Grace Baptist Church of Marshfield – all services and activities cancelled
Grace Lutheran Church (Marshfield) – all services and activities cancelled, (including Adult and Youth Sunday School)
Immanuel Lutheran in Hewitt – all services and activities are cancelled
Immanuel Lutheran Church (604 S Chestnut, Marshfield)- all services and activities cancelled
Redeemer Christian Church (corner of Third and Chestnut)- all services and activities cancelled
Riverside Church (Maple Ave) –  all services and activities cancelled
Spencer Zion United Methodist – all services and activities cancelled
St John's Lutheran Church (Spencer) – all services and activities cancelled
St. Johns Episcopal Church (Marshfield) – all services and activities cancelled
St. Paul's UCC church – all services and activities cancelled
The Mill Church – services in Stratford and Edgar are cancelled
Trinity Lutheran Church – all services and activities (including family Bible hour) cancelled
Loyal and York Center United Methodist Church  – cancelled
Zion Evangelical Lutheran Church (LCMS) (Granton) – all services and activities cancelled
Zion United Methodist – all services and activities cancelled
OTHER
American Legion Post 54 Bingo – cancelled
Buck-A-Neer – closed
Marshfield Public Library – closed
Pittsville FFA Banquet has been canceled and rescheduled for Thursday April 19th at 7 pm
RiverEdge White Tails Banquet – rescheduled for Tuesday, April 17
Spring Craft Sale at Eagles Club – rescheduled for May 20
Please submit Cancellations to news@focusonmarshfield.com (or comment on Facebook)