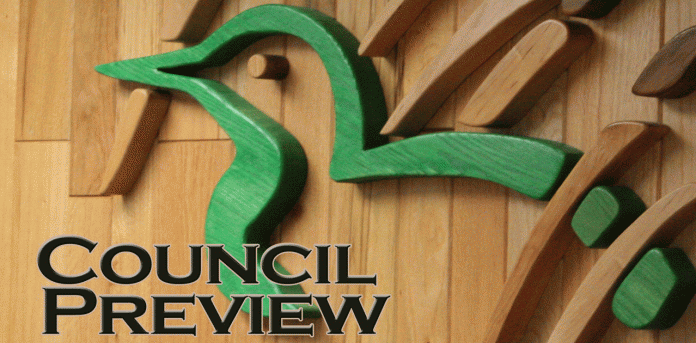 Council Preview- What to Expect at Tuesday's Meeting
With the City of Marshfield Common Council's next meeting on Tuesday, March 28, City Administrator Steve Barg outlines what to expect. Previewing the agenda with him is WDLB's Mike Warren, host of Council Preview on Marshfield Community Television (MCTV).
Expected Highlights for Tuesday's Meeting:
Community Center Discussion
Asbestos is present in the new Community Center, and after a discussion last fall, two main options were given: remove asbestos in only the places that will be disturbed (this meets the law) or remove all of the asbestos. Council voted to remove all asbestos. At their Monday meeting, the Board of Public Works approved a bid for removal (at $92,000). The Council will vote whether or not to approve Public Works' decision. If all goes to plan, remodeling could start as early as June. An update on the construction schedule and funding will be given in April.
Interest Rate For Special Assessments
At the Finance, Budget, and Personnel Meeting on Tuesday, the Committee discussed the interest rate for special assessments at 2% over the rate of borrowing (total of 4.1%). For example, a resident having road work done on their street would be assessed this.
Ambulance Billing Update
The City is considering outsourcing this service for the first time. At Tuesday's FBP meeting, the committee recommended a 7-person committee review team to compare bids, evaluate what it would cost to do this service in-house, and then determine what's best for the City of Marshfield: outsourcing or continuing internally.
Veterans Parkway Development (near Shortess Drive)
A development off of Veteran's Parkway, which is currently privately owned and managed, is asking to be transitioned to the City. Council will be updated at Tuesday's meeting.
Plan Commission has approved a preliminary plat. Public Works will evaluate whether the current infrastructure meets City standards or needs updating. Under a new Ordinance, when someone provides a new development, they must provide park land or a certain amount of funds to improve parks in the area. In this situation, the City will ask for $5200 ($200 per dwelling unit).
Presentation on Police Department Command Central Reports
Chief Gramza sends out a weekly report showing what kinds of calls the PD has received in the past week (ex: traffic stops, accidents, complaints, criminal violations, trespassing, etc). Come budget time, this will help determine resources that are needed. He will present on this at Tuesday's meeting.
Airport Improvements
Jeff Gaier will be presenting a resolution petitioning the new Secretary of Transportation for airport improvement aid, and asking for the City's approval of that resolution. State and Federal dollars are important to sustaining the airport, which is a vital resource for the community.
Sale of City Hall to Gorman
In Closed Session, the Council will review an issue in question between the City and the buyer (Gorman) related to the sale of City Hall.