Despite Stereotype, USPS Carriers Enjoy Canine Encounters
City Carrier Chad Breitzke has been with the USPS since 2014 and currently works as a "T-6" carrier, which means he pivots between five different routes, covering when the regular carrier has their day off, and has a mix of walking and driving routes. One of the joys of his daily work is the many encounters with friendly dogs along his route.
"Every mail route has dogs, some typical, some not so much. We encounter dogs of every size and shape, as well as many different personalities," said Breitzke.
Though the stereotype holds that dog and mailman have an innate rivalry, in fact encounters with dogs are often the highlight of some mail carrier's day.
"I am the type of carrier that enjoys dogs. Having six of my own, I've enjoyed the company of a canine for a long time," said Breitzke. "I personally have faith in dogs, until they show me a sign that something's just not right. I always approach all dogs as if I am the Alpha dog, that they should fear me, not me of them. For this reason, I think that I have grown to know many dogs in the area and have a mutual understanding with them and enjoy knowing them."
Being a carrier that covers five routes every week, Breitzke has the ability to see many more dogs than most carriers do. He shares the story of one yellow lab along his route that is especially entertaining.
"He will actually hear the mail truck coming and pace the perimeter that he is allowed to walk. Tail wagging, and always a gentle bark…..he knows what's coming very soon. Once I reach where he lives, he is wagging his tail and jumping around with a sense of happiness. He knows he's going to get a lot of petting and some great bacon treats! He's such a good listener and will wait patiently for his treat," he said.
"When his owners have to be gone during the day, he still can hear the truck from inside the home and will sit on top of their couch looking out the window at me as if to say, 'I'm sorry I can't be outside today…my owners had to leave, but I will see you next week I hope!' I make sure I stop by the window, acknowledge him and wave before moving on to the next mail delivery."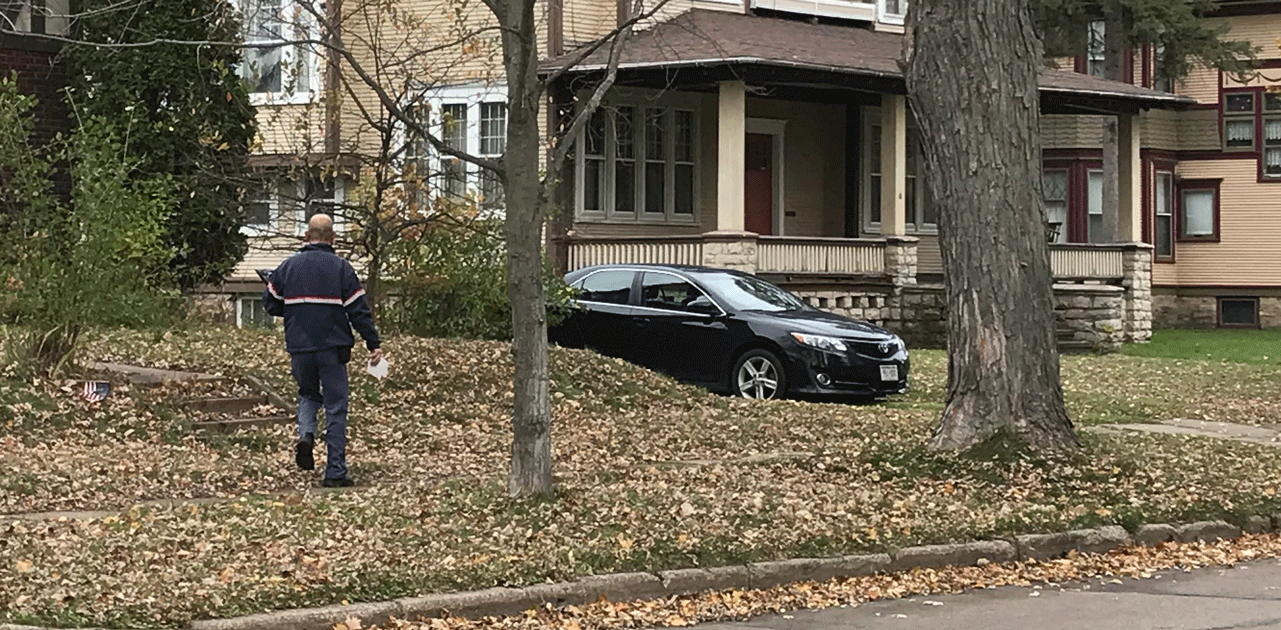 Another dog on his route that he enjoys is a big Great Dane.
"And by big, I mean huge! I think we can almost look eye-to-eye," said Breitzke. "Many of our carriers would be afraid of him, but there was always something so cool about him. I gave him my trust, and he earned it. His owner was out one of the first times we met so I felt he was approachable then. From that point on, he has come to love being petted."
Breitzke said his encounters with dogs helps keep the job fun, entertaining, and rewarding.
"Some days I would just rather play with the dogs on my routes," he said. "There are the usual oversized bedroom slippers, and then the fence chasers that I see all the time that think they are boss and control the sidewalk, until I politely put them in their place and invite them to race me to the end of the fence."
Though most encounters with dogs are positive, Breitzke reminds owners that not every mail carrier is comfortable with pets.
"Some of the local carriers are not comfortable when dealing with dogs, and thus if an owner leaves their dog out where it may become a danger to the carrier, the carrier generally will not deliver the addresses mail that day," he said. "As carriers, we are entitled to do such as safety is our number one concern every day."