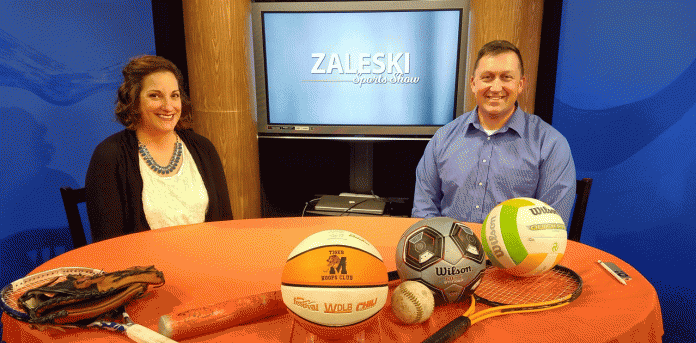 Hosts of Zaleski Sports Show Thankful for Support
Covering everything from professional cornhole to Green Bay Packer football, student athletes to MLS soccer, the Zaleski Sports Show has grown significantly in popularity and coverage since starting production in December of 2016.
Hosts Jason and Rachel Zaleski host and produce the show, which airs weekly on Marshfield Community Television (MCTV) and online (with production assistance provided by MCTV staff).
Featuring sports news, athlete updates, and even educational topics, the couple has enjoyed showcasing local talent and even interviewing professional athletes such as the Green Bay Packers' Richard Rodgers.
Though the on-field coverage at Marshfield Chaparrals games and sideline footage at MLS games is fun, Jason's favorite part of producing the show is meeting parents and their kids.
"They have so much fun cheering for their kids and the kids have so much fun hearing the spectators cheer them on," he said.
Jason also enjoys helping people get comfortable being on-camera.
"We've found out that the camera likes everybody and not everybody likes the camera. Helping somebody tell their story in front of the camera is my favorite experience. Helping them overcome a fear of being on camera so the rest of us can see their experience is very fulfilling," he said.
Despite their success, Jason doesn't consider himself a local celebrity by any means. "For sure not a celebrity, rather the kids who are dedicating their time to participate in sports are the celebrity," he said. "They work hard in practice and when they play hard we do our best to tell their story."
"I have really enjoyed producing the Zaleski Sports Show because seeing the excitement in the eyes of people in our community when they see our cameras and their hope of being 'on TV' is just as exciting for us as it is for them," added Rachel. "We get to highlight individuals in our community and help them to feel like a superstar or local celebrity. Seeing that excitement fuels Jason and I to keep giving back to the community and the awesome people around town."
Everyone is welcome to contact the Zaleskis with ideas, or just say "hi" when they see the couple out with their camera.
"It has been overwhelming to hear and read of all the support we get from the people that approach us about the Zaleski Sports Show," said Jason. "We need feedback to make the show better and ensure that we are reaching all the athletes in the area that deserve attention for their accomplishments. So keep talking to us and if you haven't said 'hi' yet, please do – maybe the camera will like you."
Both Rachel and Jason encourage everyone to tune in to the show to learn all about the amazing things taking place in the community.
"I remember being little and hoping and wishing I could be noticed by the local newspaper or news channel so this is my way of giving back and helping our community members feel important," said Rachel.
"The people in our area are doing great things; some of those great things happen with a stick or a ball. Tune in and find the greatness that happening is in our community," said Jason.
Connect with the Zaleski Sports Show:
Twitter @ZaleskiSports
Facebook @ZaleskiSportsShow
Phone 715-383-2442
Airs on MCTV, Charter Cable Channel 989