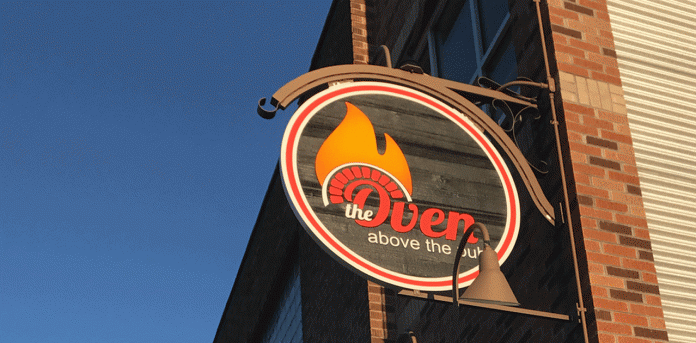 Oven Above The Pub Celebrates First Year in Community
It's been one year since Oven Above The Pub replaced West 14th Restaurant in the upstairs of the historic Parkin Place building downtown, and so far many have enjoyed its unique dining experience.
"Generally, it is going well," said Paul Meier, owner. "We have introduced a new dining experience to Marshfield and have increased the foot traffic to our upstairs dining facility. Both were goals of our re-do upstairs."
The focal point of the restaurant is the 5,800-pound titular gas-fired oven, a masterpiece bright red in color that was hand-made in California specifically for the Pub. Diners can witness their food being cooked- if they choose to pay attention- as the oven is technically in view of the dining area, though tucked away a little behind the bar area.
"The oven itself is familiar (everyone has one!) and different—oven cooking is ancient but very new," said Meier. "Watching your food prepared at a temperature of 750 degrees or more is fascinating. New flavors are added to the food because of the interaction of high temperature and food sugars."
Every item is cooked in the oven, not just pizzas and flatbreads.
For those who haven't tried Oven Above The Pub, Meier encourages it as a way to enjoy some amazing food and to try something new.
"People are generally creatures of habit. When it comes to dining or consuming food, habits are hard to break," he said. "Oven Above The Pub provides an easy way to break out of the 'food rut.' The menu is both familiar and new."
All ages can enjoy Oven Above The Pub, which provides a casual and more quiet dining experience than the downstairs BrewPub. There is a special kids menu and they can color on the table while waiting for their food (which isn't long, given the oven's temperature).
"The menu is not large and changes frequently. No need to get bored," said Meier. "I enjoy the crab cakes, a petite salad, and the bowl of ancient grains with chicken or shrimp."
He added that the pace of dining is different, and sharing food plates can makes for a more intimate and communal meal.
"Trying something new is adventurous and fun," said Meier. "Kids especially should experience new and different foods."
Additionally, Meier reminds that the menu is flexible and diners are welcome to request modifications to their chosen dish.
All Brewpub beers are available at Oven Above The Pub, as well as a full bar.
"The cheese boards are a great way to enjoy a glass of wine, a pint of beer and a good conversation," said Meier.
For the second year of Oven Above The Pub, one goal includes increasing foot traffic upstairs.
"People are used to going to the Pub and it is surprising that so many of our patrons are not aware of the difference between the BrewPub and Oven Above The Pub," said Meier. "One of the things we are considering is designating special evenings when interested individuals would bring a dish and try their hand at fire oven cooking. There would be supervision and help, but I think it may help teach patrons about our oven in a first-hand way. We'll see if an interest develops."
In short, stop upstairs at Oven Above The Pub for a unique and tasty dining experience.
As Meier summarized, "We have the Big Red Oven. It cooks amazing food."