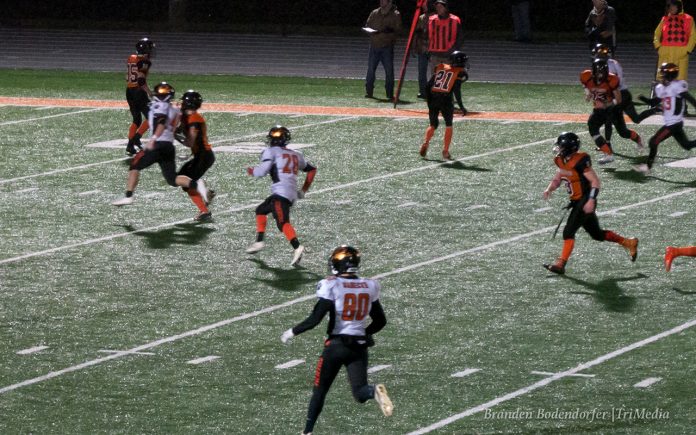 Level Three of the WIAA State Football Playoffs is fast approaching and there are many local teams in contention for the coveted gold ball.
We start in Division 5 as the road warriors of #5 seed Stratford will have another tough test as they will travel to take on the #2 seeded Amherst Falcons.
The Central Wisconsin Large Conference Champion Falcons (10-1, 7-0 in conference) are led by QB Marcus Glodowski, who has rushed for 1502 yards and 25 TD's and passed for another 1121 yards and 14 TD's this season, leading the team in both categories. Their only loss of the year was to Division 6 power Fond du Lac St. Mary's Springs 14-13 in week 2. In the first two rounds of the playoffs, the Falcons beat Colby 53-6 in Round 1 and Spencer/Columbus 49-18 last week. The winner of this game will face the winner of #1 seed Grantsburg and #2 seed Elk Mound.
Next in Division 6, the #2 seed Marathon Red Raiders will play their first road game of the playoffs as they travel to take on the #1 seeded Iola-Scandinavia Thunderbirds. Iola-Scandinavia (9-2, 5-2 in conference) finished third in the Central Wisconsin Large Conference, only losing to Amherst and Division 5 #4 seed Bonduel. Iola-Scandinavia are lead by junior running back Bryce Huettner, who has rushed for 2150 yards on the season including 240 yards and 7 touchdowns on only 11 caries in their last game against Crivitz. The Thunderbirds beat Mishicot 49-7 and Crivitz 59-26. The winner of this game faces the winner of #4 seed Unity and #2 seed Eau Claire Regis.
In Division 7, we have a pair of games this week, starting with the matchup of the year as the #1 seed Edgar Wildcats will host the #2 seed Bangor Cardinals. The Bangor Cardinals (11-0, 6-0 in conference) are the champions of the Senic Bluffs Conference. They have outscored their opponents this season 592-34. This is only matched by Edgar outscoring their opponents 399-12. Both teams played Loyal this season and shutout the Greyhounds, Edgar winning 35-0, and Bangor winning 38-0. The Cardinals are lead by running back Luke Reader who has rushed for 1361 yards and 25 TD's on the season.
Also in Division 7, the #3 Seed Abbotsford Falcons travel over to Clear Lake to take on the #1 seeded Warriors. Clear Lake (11-0, 6-0 in the Lakeland South) are led by a dual threat at QB and RB. QB Cal Rosen is the leading rusher with 1084 yards and 18 TD's while also passing for 340 yards and 6 TD's. Second leading rusher is the RB Gabe Colbeth with 837 yards and 11 TD's. Both Abbotsford and Clear Lake played Fredrick this year; Clear Lake played them in week 5 on the road and won 41-0 and Abbotsford played them in Level 1 of the playoffs and won 48-6. The winner of this game plays the winner of the Edgar/Bangor game in Level 4
All games across the state:
Division 1
#2 Appleton North @ #1 Bayport
#3 Madison West @ #1 Sun Prairie
#2 Fond du Lac @ #1 Kimberly
#4 Muskego @ #2 Franklin
Division 2
#2 Green Bay SW @ #1 Menominee
#3 Hartford Union @ #1 Waunakee
#2 Waukesha West @ #1 Monona Grove
#3 Brookfield East @ #1 Brookfield Central
Division 3
#2 Rice Lake @ #1 Antigo
#3 Notre Dame @ #1 West De Pere
#2 Catholic Memorial @ #1 New Berlin Eisenhower
#2 Glendale @ #1 Whitefish Bay
Division 4
#4 Bloomer @ #2 St. Croix Central
#2 Freedom @ #1 Wrightstown
#3 Lake Mills @ #1 Lodi
#6 Martin Luther @ #4 Two Rivers
Division 5
#2 Elk Mound @ #1 Grantsburg
#5 Stratford @ #2 Amherst
#2 Lake County Lutheran @ #1 Clinton
#6 Valders @ #1 Ceader Grove-Belgium
Division 6
#4 Unity @ #3 Eau Claire Regis
#2 Marathon @ #1 Iola-Scandanavia
#3 Mineral Point @ #1 Markesan
#2 Racine Lutheran @ #1 Fond du Lac St. Mary's Springs
Division 7
#3 Abbotsford @ #1 Clear Lake
#2 Bangor @ #1 Edgar
#2 Potosi/Cassville @ #1 Black Hawk
#2 Fall River @ #1 Wild Rose