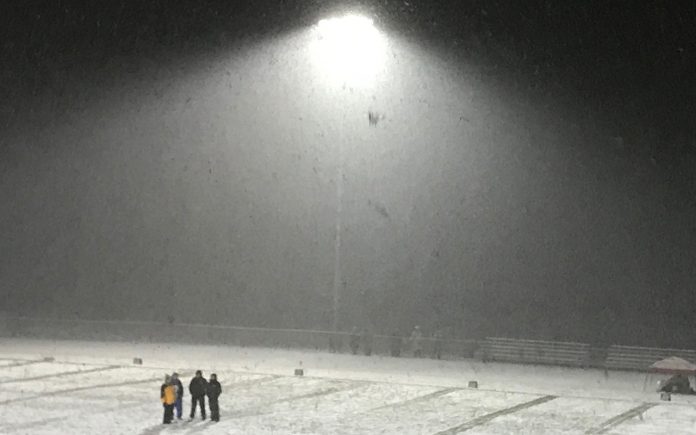 A tough night for many local teams as three of the four teams locally fall in Level 3 of the WIAA Football Playoffs.
We start in Division 7 at Edgar in what many have referred to as the actual Division 7 State Title Game as the Edgar Wildcats took on the Bangor Cardinals. In a defensive game, Edgar falls to the Bangor Cardinals 16-8. Edgar ends the year 11-1.
Also in Division 7 the Abbotsford Falcons traveled and dominated the Clear Lake Warriors in the snow 50-14. A game that saw Abbotsford score at will from anywhere on the field, they scored Touchdowns from both 75 and 90 yards in the game. They also played very good defense with both a blocked punt and an interception return for a touchdown. Abbotsford will face Bangor Friday Nov. 10th at Chippewa Falls.
In Division 6 the Marathon Red Raiders fell to the Iola-Scandinavia Thunderbirds 32-12 in a tough matchup for Marathon, they finish their season 8-4. Iola-Scandinavia will take on Eau Claire Regis Friday at Stevens Point.
In Division 5 the Stratford Tigers fell to the Amherst Falcons 52-15. The Tigers fell victim, as so many teams have, to the running ability of Flacons QB Marcus Gladowski who ran for over 260 yards on the night. The Tigers finish their season 9-3. The Amherst Falcons will take on the Grantsburg Pirates Friday at Stanley-Boyd.
All scores for Level 3 of the Football Playoffs
Division 1
#2 Appleton North 49 – #1 Bayport 41
#1 Kimberly 28 – #2 Fond du Lac 21
#1 Sun Prairie 49 – #3 Madison West 17
#4 Muskego 24 – #2 Franklin 21
Division 2
#2 Green Bay SW 16 – #1 Menomonie 14
#1 Waunakee 45 – #3 Hartford Union 19
#2 Waukesha West 28 – #1 Monona Grove 7
#1 Brookfield Central 31 – #3 Brookfield East 0
Division 3
#2 Rice Lake 42 – #1 Antigo 7
#3 Notre Dame 28 – #1 West De Pere 7
#1 New Berlin Eisenhower 7 – #2 Catholic Memorial 0
#1 Whitefish Bay 21 – #2 Greendale 14
Division 4
#2 St. Croix Central 28 – #4 Bloomer 0
#2 Freedom 14 – #1 Wrightstown 13
#1 Lodi 35 – #3 Lake Mills 0
#6 Martin Luther 31 – #4 Two Rivers 23
Divison 5
#1 Grantsburg 40 – #2 Elk Mound 7
#2 Amherst 52 – #5 Stratford 15
#2 Lake Country Lutheran 17 – #1 Clinton 14
#1 Cedar Grove-Belgium 28 – #6 Valders 0
Division 6
#3 Eau Claire Regis 21 – #4 Unity 8
#1 Iola-Scandinavia 32 – #2 Marathon 12
#1 Markesan 47 – #3 Mineral Point 26
#1 St. Mary's Springs 28 – #2 Racine Lutheran 0
Division 7
#3 Abbotsford 50 – #1 Clear Lake 14
#2 Bangor 16 – #1 Edgar 8
#1 Black Hawk 28 – #2 Potosi/Cassville 7
#2 Fall River 8 – #1 Wild Rose 7
Level 4 Matchups
Division 1
#2 Appleton North vs #1 Kimberly @ Titan Stadium – Oshkosh
#1 Sun Prairie vs #4 Muskego @ Homestead Arrowhead
Division 2
#2 Green Bay SW vs #1 Waunakee @ Menasha
#2 Waukesha West vs #1 Brookfield Central @ Oconomowoc
Division 3
#2 Rice Lake vs #3 GB Notre Dame @ DC Everest
#1 New Berlin Eisenhower vs #1 Whitefish Bay @ Kettle Moraine
Division 4
#2 St. Croix Central vs #2 Freedom @ Merrill
#1 Lodi vs #6 Martin Luther @ Waukesha North
Division 5
#1 Grantsburg vs #2 Amherst @ Stanley-Boyd
#2 Lake Country Lutheran vs #1 Cedar Grove-Belgium @ West Bend
Division 6
#3 Eau Claire Regis vs #1 Iola-Scandinavia @ Stevens Point
#1 Markesan vs #1 St. Mary's Springs @ Slinger
Division 7
#3 Abbotsford vs #2 Bangor @ Chippewa Falls
#1 Blackhawk vs #2 Fall River @ Middleton