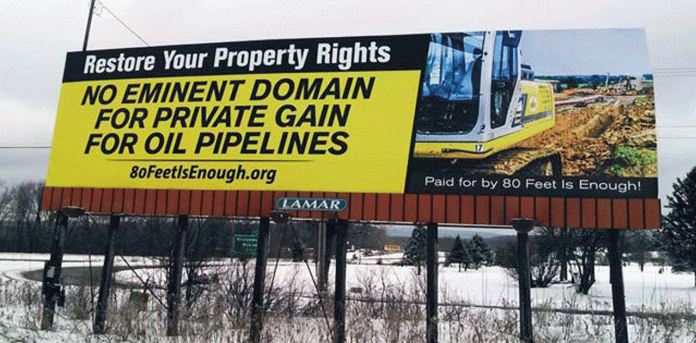 80 Feet Is Enough Hosting Educational Meeting October 27
80 Feet Is Enough, a group of citizens dedicated to raising awareness about the proposed Enbridge pipeline expansion in Wisconsin, will be hosting an event on October 27 at Hotel Marshfield with the goal of bringing together people and organizations from across Wisconsin and the USA who are working to stop the expansion of oil pipelines.
Called "People Over Pipelines: Protecting Our Homes and Water," a portion of the event will be open to the public and feature educational opportunities related to the pipeline issue.
"People can learn more about tar sands oil extraction, climate change, the Keystone XL pipeline fight, the actions of Native Americans to oppose oil pipeline expansion, and the abuse of eminent domain by Enbridge," said Mark Borchardt, Founder of 80 Feet Is Enough!. "It will be a unique mix of people across the cultural and political spectrum."
Each organization has a different reason for their opposition to the pipeline, and in Marshfield, 80 Feet Is Enough! is opposed to the abuse of eminent domain for the private gain of oil pipeline companies.
"We want to restore property rights in Wisconsin and fix the reform the eminent domain law so Enbridge does not have the power of forcible land takings," said Borchardt. "Our sister non-profit organization is the Wisconsin Easement Action Team. Its purpose is to provide top notch legal representation to landowners dealing with new land easements taken by Enbridge."
Borchardt said that Enbridge has been adding pipelines in the past 20 years to the original 80 foot easement, and that now there are four pipelines carrying 15% of US oil demand through the Marshfield area.
These additions, along with an increase in Enbridge's presence in the community, concerns Borchardt.
"Now that Enbridge needs more land to add more pipelines, only now in the last couple of years has Enbridge been playing the role of good corporate citizen," he said. "Now they have a presence in Marshfield by giving free gas giveaways at Kwik Trip, joining MACCI, giving free pick-up trucks to local fire depts, giving food to the local food pantries, hosting open houses with food, sponsoring the WI Counties and Towns Association meetings, etc, etc. People need to be aware they are being bought off. As soon as Enbridge gets the land they want they will be gone, out of Marshfield again like they were for the past twenty years."
If interested in being involved, people are encouraged to join the 80 Feet Is Enough! Facebook page, subscribe to their newsletter, host a meeting, and contact local and state political leaders.
"Care if you're concerned about: 1) property rights, property values, property safety; 2) climate change; 3) corporate influence on Wisconsin political process and local decisions that affect everyone's lives," said Borchardt.
Learn more here.