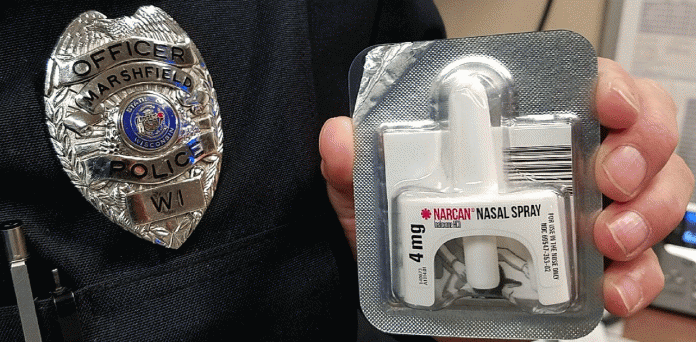 NARCAN Provided Free-of-Charge Through Grant
Officers of the Marshfield Police Department are now carrying life-saving medication NARCAN™ (naloxone), thanks to a grant through the Wood County Drug Task Force. The grant, in conjunction with Riverview Hospital in Wisconsin Rapids, provides NARCAN to police in Wood County free of charge.
Used in the treatment of opioid emergencies such as an overdose, NARCAN is a fast-acting medication that blocks receptors long enough for an opiate to metabolize in a person's body. It lasts time-dependent on which opiate is in the system, and a second dose can be administered if needed.
With the increase of prescription drug abuse, heroin, and other opiates such as Fentanyl, more and more often, NARCAN can mean the difference between life and death.
"This could save anyone at any age," said Officer Derek Iverson of the Marshfield Police Department. "If grandma forgets that she took her painkillers and then takes another dose, she's at risk for overdose. So are children that get into medication and those that use illegal drugs."
Though area paramedics have exceptionally quick response times, those few minutes before they get there can be critical. Additionally, officers will sometimes come across an overdose situation before paramedics are even called, and those few minutes are crucial.
"'Time is brain' and 'time is muscle' are sayings we typically use," said Marshfield Fire & Rescue firefighter/paramedic Jonathan Altman."If they can give it even within a minute before we get there, it's worth it. Ultimately we're all here to protect and help the community. That's the whole role of public safety."
NARCAN is also beneficial to officers who are exposed to opiates, which are appearing more and more in powder form and being cut into heroin.
"Normally we wear protective equipment, but there is always that risk of accidental exposure," said Iverson. "That means our officers are at risk for overdose."
Not just for humans, NARCAN can also be used to save dogs, such as a K9 that accidentally ingests an opioid.
"If NARCAN is administered to someone who doesn't need it, it's not going to harm them," said Altman. "There is no risk of abuse with it."
During the last week of March, all officers participated in a doctor-approved 30-minute training to review policy and procedures. Since then, each officer has carried two four-milligram nasal spray doses of NARCAN.
Police Chief Rick Gramza is already looking at option for funding NARCAN after the conclusion of the grant.
"It's one of those things you'd rather have and not need it," said Rick Gramza.
Added Iverson, "What kind of price do you put on a life?"