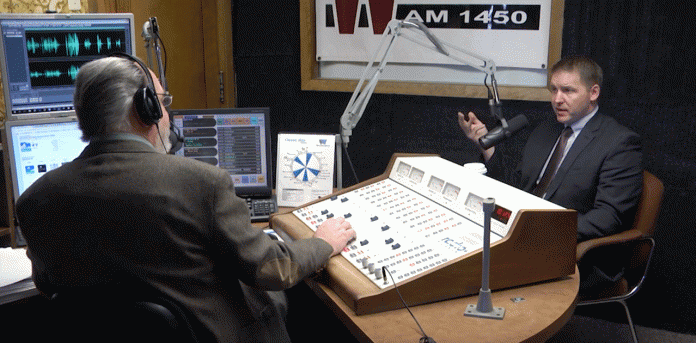 Marshfield Mayor Appears Monthly on WDLB Radio & MCTV
For nearly nine years (which is as long as he's been in office), Mayor Chris Meyer has visited WDLB or Marshfield Community Television (MCTV) studios on the first Friday of every month to talk with host Jeff Cannon about the latest news and events taking place in the City of Marshfield.
During the program, listeners can call into the program to talk directly with the Mayor- to ask questions, address concerns, or share an idea.
"Programs such as Insight allow the Mayor to communicate directly with the public regarding current happenings in the City," said Meyer. "Creating both monthly and weekly programs allows residents to have access to current information about City events and issues."
During the month of June, the Mayor speaks live from the Mayor's Dairyfest Breakfast, but otherwise all shows are filmed at WDLB Studios, and occasionally at MCTV studios. Each episode is broadcast throughout the month on Charter Channel 989, and available to watch anytime on MCTV's website.
On the February episode, Mayor Chris Meyer discussed snow removal, ice's impact on roads, the street referendum, library/community center, City Hall floor plan, Hefko pool, and communications goals.
Everyone is welcome to listen live and call into the program, which is broadcast live on the first Friday of every month on AM1450 WDLB, starting at 10:00am.