Hospice Aide Kylah Hill was awarded Thursday morning with the prestigious High Five Award at Ascension at Home during a surprise ceremony.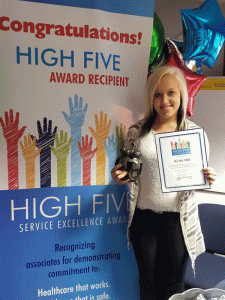 The award recognizes Ascension At Home associates who have demonstrated a commitment to "Healthcare That Works, Healthcare That is Safe and Healthcare That Leaves No One Behind, for Life." Additionally, they are good role models and have a compassionate presence in the workplace.
Just one individual earns the honor per quarter and is selected from all of Ascension At Home locations in Wisconsin.
"I just enjoy working with patients and helping them on their journey to end of life, and working with the people I work with," said Hill, who started her position in February and was completely surprised by the honor. "It's amazing."