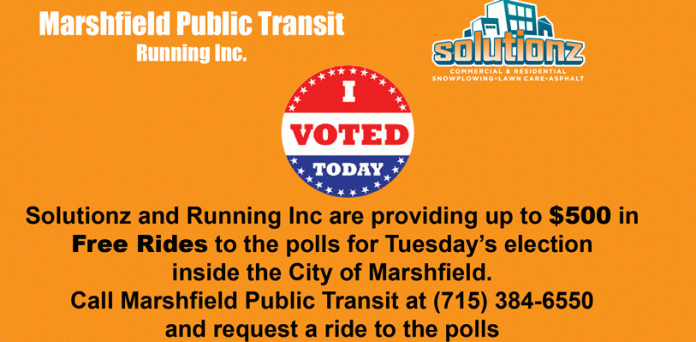 Solutionz and Running, Inc to Provide Rides to the Polls
With a spring snow storm on its way to Marshfield just in time for the 2018 spring election, some people might be nervous about driving to their polling location on Tuesday. To provide a solution and to help get out the vote, Solutionz of Marshfield and Marshfield Public Transportation are teaming up to give free rides to Marshfield polling locations.
"Our winter specialty is snow removal," said Solutionz owner Rich Hohl, "Even though we would like to remove all the snow in the city in time for the elections, we know that's not possible. So, we went to work to find a way to get people safely from their house to the ballot box."
As a result, Marshfield Public Transportation will give free rides, up to $500 cumulative, to anybody in the city of Marshfield that wants a ride to their polling station on Tuesday.
Polling locations in Marshfield are open on Tuesday, April 3rd from 7am until 8pm. Locations are as follows:
Oak Avenue Community Center, 201 S Oak Avenue (Districts 1, 2, 3, 4, 10 and city of portion of Marathon County)
Wildwood Station, 1800 S Roddis Avenue (Districts 5, 6, 7)
Community Center, 211 E 2nd Street, (Districts 8, 9)