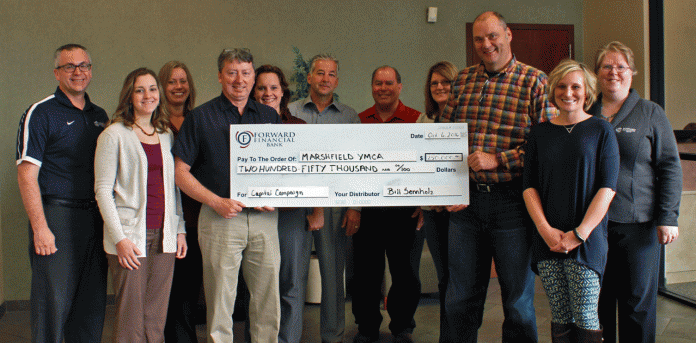 Forward Pledges $250,000 Towards Marshfield Clinic Health System YMCA Expansion
Forward Financial Bank has pledged $250,000 to the capital campaign for the expansion of the Marshfield Clinic Health System YMCA.
The pledge highlights the important role the YMCA plays in the Marshfield Community and surrounding areas. Programs and use of the facilities promote healthy and active lifestyles for all ages.
"A donation of this magnitude is part of our mission to give back to our community," commented Rob Mort, Chief Financial Officer for Forward Financial Bank. "Our community support is how we pay dividends to our owners. Instead of sending checks to individuals, we invest in our community with projects like the Marshfield Clinic Health System YMCA expansion project. The character built over time through youth programs at the YMCA helps to provide young employees and community members that are driven to success. This helps to make our future bright."
Not only is Forward Financial Bank supporting the project with this sizable pledge; Bill Sennholz, President & CEO of Forward, has been donating his time as an active member of the capital campaign committee and Chair of YMCA Board of Directors.
Forward Financial Bank is a customer-owned, independent community bank who operates to benefit its depositors while offering no fee deposit options, lower lending fees and rates. The Bank continues to be community-orientated by proudly supporting local clubs, businesses, sports, organizations, and schools.
Forward Financial Bank currently has offices in Colby, Greenwood, Stanley, Thorp, Withee, Medford and two locations in Marshfield. For more information, please visit www.forwardbank.com.