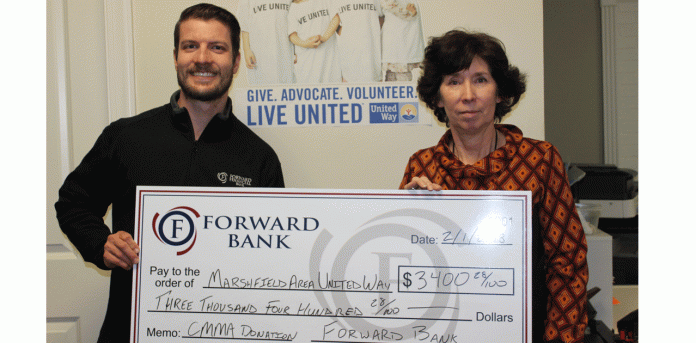 Forward Financial Bank Donates Over $127,000 to Local Non-Profits Through Charitable Money Market Account
The Forward Financial Bank team was proud to present the Marshfield Area United Way with a check for $3,400.28 on behalf of customers in our area participating in the Charitable Money Market Account (CMMA) program.
With $127,429 in contributions delivered in January (an increase of over $32,000 from last year), the total giving for the program tops $700,429 since inception. Over 125 different non-profits, churches, and schools in the Central Wisconsin area received donations from Forward Financial Bank.
"Our commitment to the well-being of the communities we serve is highlighted by the Charitable Money Market Account. Our customers have enjoyed this creative way of supporting their favorite charities, and the organizations receiving the funds, appreciate the support," said John Kaprelian, AVP/Retail Manager at Forward Financial Bank in Marshfield.
To open and maintain a CMMA, all the customer needs to do is open the account, designate a participating non-profit organization, school, or church, and keep a balance in their account throughout the year. The average balance in their account is calculated at the end of the calendar year, and the bank donates one-tenth percent of the customer's average balance to that organization.
Forward Financial Bank is a customer-owned, independent community bank that operates to benefit its depositors while offering no fee deposit options, lower lending fees and rates. Forward Financial Bank currently has offices in Colby, Greenwood, Stanley, Thorp, Withee, Medford and two locations in Marshfield. For more information, please visit www.forward.bank.