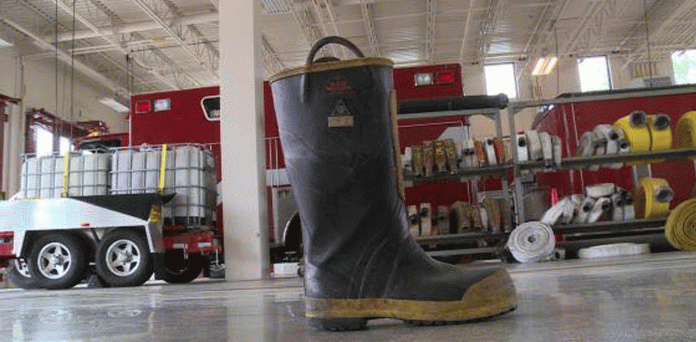 Fill the Boot Campaign Takes Place June 2 During Dairyfest
In 2015, more than 100,000 fire fighters participated in Fill the Boot events across the country and raised $25.5 million, and Marshfield Firefighters Local 1021 has helped the Fill the Boot campaign right here in Marshfield.
For more than 60 years the International Association of Firefighters (IAFF) have assisted the Muscular Dystrophy Association (MDA), working together to free individuals — and the families who love them — from the harm of muscular dystrophy, ALS, and related muscle-debilitating diseases that take away physical strength, independence, and life.
IAFF support for MDA began in 1954, and the organization's unwavering commitment to MDA has remained strong to this day. As MDA's largest national partner, the IAFF has raised more than $585.5 million to help kids and adults with muscle-debilitating diseases live the life they've always imagined and experience the world without any limits.
"The reason we are involved is to be part of the overall goal of ending muscle-debilitating diseases," said Ben Griesbach, Firefighter/Paramedic with Marshfield Fire & Rescue Department.
Fill the Boot donations benefit MDA's shared mission to find research breakthroughs across diseases, care for kids and adults from day one, and empower families with services and support in hometowns across America.
Marshfield Firefighters will be "shaking the boot" during the Mayor's Dairyfest Breakfast on June 2, and also in the fall at Festival Foods during their annual "Pumpkin Blowout".
"People can help by donating funds during those events," said Griesbach. "If persons would like to help but can't make the events, they could stop at the fire department and make donations to the MDA there."
Greisbach encourages everyone to visit during the Mayor's Breakfast.
"People should come to the dairy breakfast because it is a great opportunity to help a great cause, eat a great breakfast, meet some wonderful firefighters, and see the fire engines," he said.