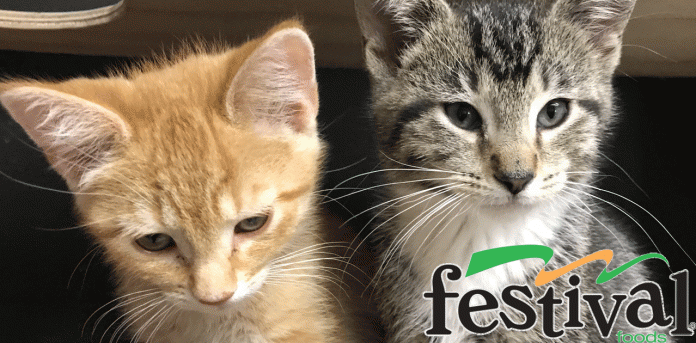 Festival Foods Shoppers Donate Nearly $167,000 to Food Pantries, Animal Organizations in 2017
At Festival Foods checkouts throughout Wisconsin, shoppers have an opportunity to support local food pantries and animal organizations by simply adding a donation to their grocery totals.
Two programs unique to Festival Foods – Food for Neighbors and Paw Away Hunger – have raised over $1.5 million to date, with donations in 2017 totaling nearly $167,000.
In 2017, a Nestle Purina matching gift program brought in an additional $11,700 to Paw Away Hunger. One hundred percent of all donations stay in the communities where they were collected.
Currently, the programs support approximately 40 Wisconsin food pantries and 35 Wisconsin animal organizations.
The grocer began Food for Neighbors in 2004 in eight stores and in 2008 created Paw Away
Hunger in response to the needs of Wisconsin animal organizations. Both programs offer
shoppers a chance to purchase $5 or $10 donation cards. Festival Foods, in turn, donates 100 percent of the collected funds to local organizations in the form of product donations.
Donation cards are available at registers and in pet food and canned vegetable aisles. Shoppers simply present cards to the cashier during checkout and the donation is added to the grocery total.
"Our guests are making a positive impact in their local communities with every contribution to Food for Neighbors and Paw Away Hunger," said Mark Skogen, president and CEO of Festival Foods.
Festival Foods thanks Nestle Purina for matching all Paw Away Hunger donations throughout the month of September 2017.