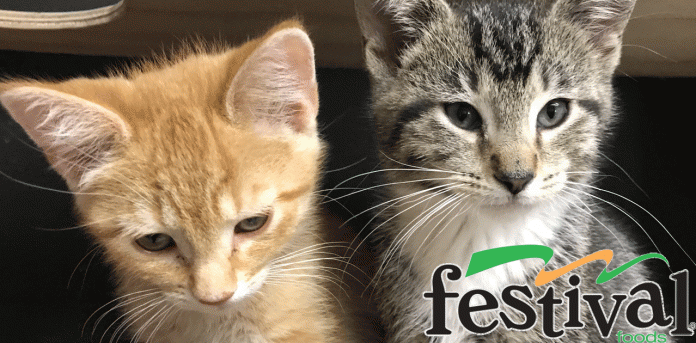 September Program to Help Local Pet Shelter
submitted to FOCUS – Festival Foods passes along 100 percent of all donations to animal organizations throughout Wisconsin. All donations are distributed – in the form of products – in the communities where they were collected.
In addition to Paw Away Hunger, Festival Foods helps support food pantries through a sister program called Food for Neighbors. Currently, the two programs provide donations to approximately 40 Wisconsin food pantries and 30 Wisconsin animal organizations.
Since it began nine years ago, Paw Away Hunger has collected and distributed nearly $250,000. Last year alone, the program collected more than $47,000 for pet organizations. Food for Neighbors has collected nearly $1.2 million for food pantries since it began in 2004.
"It's such an honor to watch these programs grow," said Mark Skogen, president and CEO of Festival Foods. "We administer these programs but it's really about people serving people – and pets. I like to say we're the steward who gets the money where it's needed. The real thank you goes to those who donate at the checkouts."
Purina will further support Wisconsin pets by providing a coupon for $1 off Beggin' Strips to every participant who registers a dog for the Dog Jog, part of the Festival Foods Turkey Trot, this Thanksgiving Day.
To learn more about Festival Foods and its commitment to community involvement, please visit www.festfoods.com.
Festival Foods announces a partnership with Nestlé Purina PetCare that will boost food and supply levels at dozens of Wisconsin pet organizations next month.
Throughout September, every Paw Away Hunger donation received from Festival Foods guests will be matched by Purina – up to a total of $10,000. To donate, shoppers can pick up a $5 or $10 Paw Away Hunger donation card at Festival Foods checkouts or in pet food aisles and add it to their grocery totals.
Founded in 1946 as Skogen's IGA, Festival Foods is a Wisconsin family- and employee-owned grocer that is committed to giving back to the communities it serves and to providing guests with exceptional service and value. The company began operating as Festival Foods in 1990 and today employs more than 7,000 full- and part-time associates.
The company currently operates 28 full-service supermarkets across the state of Wisconsin.
Nestlé Purina PetCare promotes responsible pet care, community involvement and the positive bond between people and their pets. A premiere global manufacturer of pet products, Nestlé Purina PetCare is part of Swiss-based Nestlé S.A., a global leader in nutrition, health and wellness.