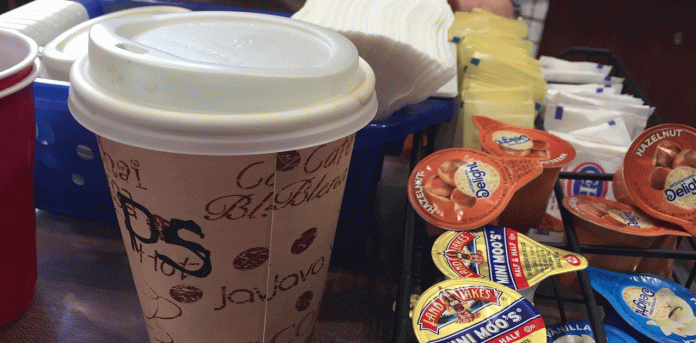 After years in the making, Everett Roehl Marshfield Public Library officially opened its first coffee service in late June. Those who drop by the entrance area Mondays through Wednesdays between 8:30 and noon can grab a cup of fresh coffee, tea, and hot chocolate as well as a scone, muffin, or cookie, locally sourced from Sweet Retreat in Loyal (originally, JJs Bakery provided the baked treats before its closure in September).
Common Grounds is operated by half a dozen regular volunteers and a few more ready to stand in as needed. Proceeds from the program benefit the Friends organization, which supports the library's mission by providing programming and helping start new collections.
So far the service has been going over well with patrons, according to Library Director Lori Belongia. "It's kind of like having greeters," she said. "They get a warm welcome before they even get to the door. I think it's a really nice way to usher people into the library."
The program has now recouped its start-up costs and is beginning to make a profit. Sweet treats are the most popular item on the menu, selling 187 cookies as of last week, 128 scones, and 110 muffins. The station has kept patrons warm with 206 cups of regular coffee, 56 decaf, and 20 of the other hot drinks available.
Belongia anticipates hot drinks will become more popular as the weather grows cold. Common Grounds will look to expand into more days and hours dependent on volunteers. Those who are interested in becoming a volunteer can contact 715-389-2745 or send an email to Belongia.
In the meantime, she encourages the community to stop down and chat with the dedicated volunteers. Treats can be taken into the library or enjoyed at one of the tables in the Atrium.