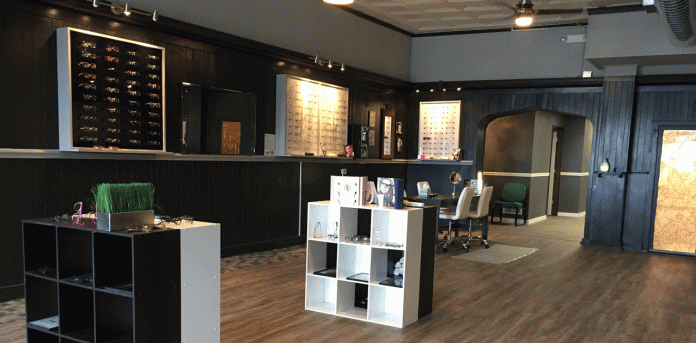 Downtown Brownstone Building Gets New Tenant
by Kaylin Speth – It's sold top hats and local beer, and now it will provide eye care to patients.
The brownstone building next to the Thomas House at 107 S. Central in downtown Marshfield was purchased and restored by optometrist Dr. Dean R. Fait, who opened Citihub Eyecare in mid-February.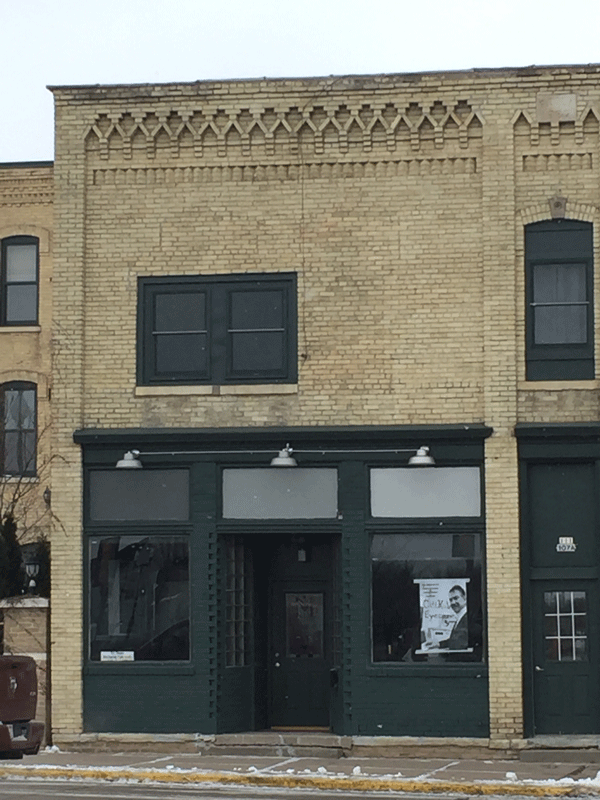 "It made me feel good to buy a piece of Marshfield and learn more about the building," said Fait, a Marshfield native.
Dating to 1887 and built soon after the Marshfield Fire, efforts were made to preserve the historical charm of the building, which has seen many businesses set up within its walls. Lingering features that reflect its long history are integrated seamlessly with the modernized interior. These include the wooden wall panels and stucco, now repainted, a stylishly curved archway separating the front and back sections, and the removal of not just one, but two ceilings to reveal the original molded tin panels.
"It's really interesting to feel one, it's like a hard aluminum," said Fait. A few panels, along with the ancient duct system, had to be replaced. Ceiling fans push the hot air downward to heat the building. Additionally, one of the refrigeration units leftover from the bar was upcycled into a front desk, and only by peering around the back and seeing the long silver handles can its original purpose be discovered.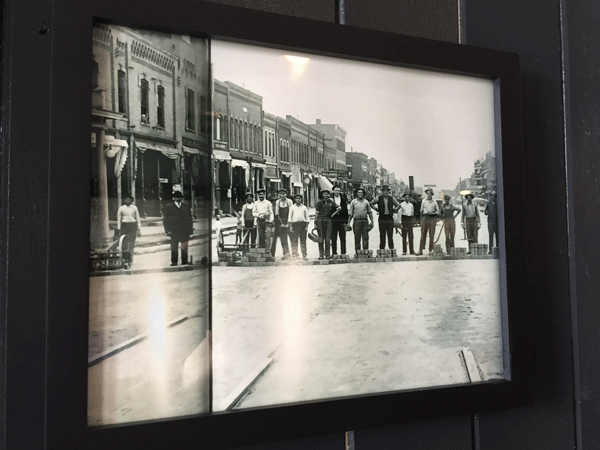 Two photos hanging near the front entrance show a few Central Avenue bricklayers, posing in front of the building in 1915, and one photo from the 1940s which shows that the building was used to sell top hats and Marshfield Brewery beer.
It's the history that Fait enjoys about his purchase, and carrying on the tradition of the old-time doctor. "A lot of doctors used to work on Main Street," he said.
There's personal history as well. After his parents moved to Marshfield from Spencer in 1965, they ate at the establishment. "After seeing a James Bond film, they would come here for pizza," said Fait. Called Spike's Uptown Bar, the name can be seen written in the concrete on the front of the building. "But we joke that they never thought I would be in here, and I never thought I would still be seeing James Bond movies!"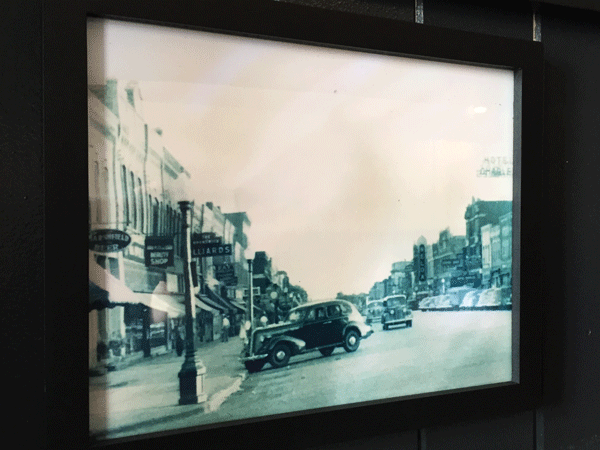 Fait attended Columbus High School and UW-Marshfield for one year, and had happy memories at the same bar. "I've had one man say that's where he met his wife," he said. At the time, the building was thought of as uptown Marshfield, not downtown like it is today.
Though he could never have guessed that he'd one day own the building, Fait is ready for the next phase and the independence that comes with opening up his own practice in his early fifties.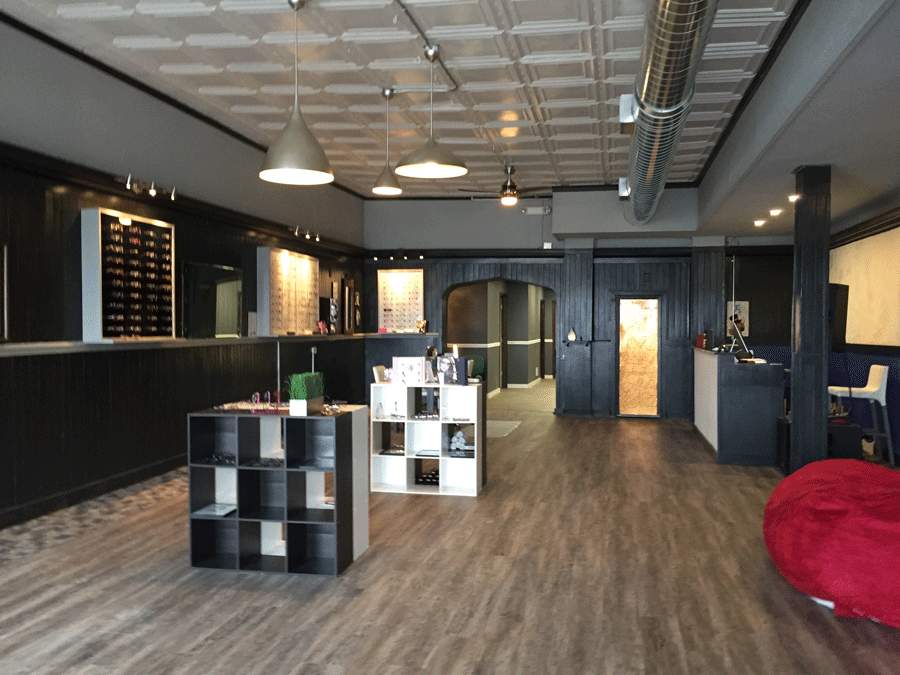 "I had a great learning experience for seventeen years with Marshfield Clinic," he said. "There's surgeons there for every different part of the eye, and you see the results and the diagnosis. You see the progress over seventeen years and how things are getting treatable."
After leaving last year, he filled an optometrist position at Stewart Optical in Wausau, but found that he wanted to stay close to his roots. Remodeling the interior began last fall, putting up drywall to form exam rooms and a wheelchair accessible bathroom, and adding decorative touches. Fait has been using wooden shingles from the previous bar's ventilation system as backboards for colorful travel photographs that he plans to hang in the space.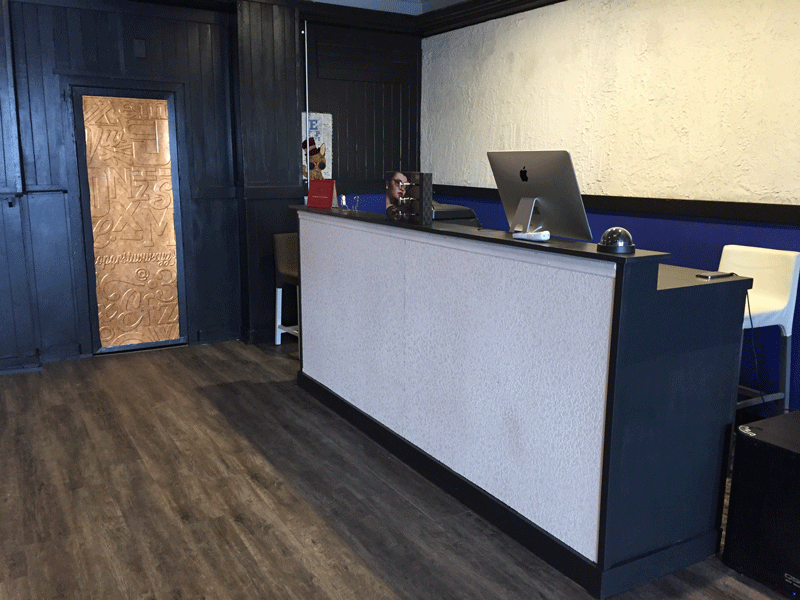 Though he foresees hiring a technician or an administrator in the future, for now Fait is content to handle all the practical and personal aspects of private practice.
"I can see three people a day and just have a full day giving them the time that I want," he said. "I used to be pushed seeing twenty patients a day, and I just couldn't keep that pace up anymore. Now, I can see patients whenever."
Being the sole doctor also comes with the perk of having state-of-the-art equipment.
"I got some neat tools that make my job interesting. I wanted to have fun again like I did when I first started."
After taking a prescription estimate in the front room, that information transfers via bluetooth to the back exam room. Patients look through the refractor as usual, but instead of having to turn dials on the sides to fine-tune the prescription, Fait is able to sit back and adjust it digitally via a screen.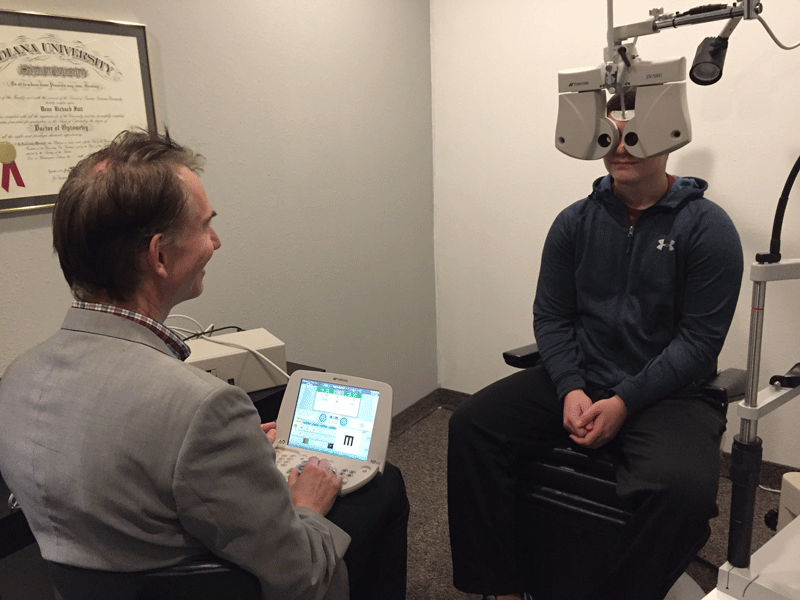 Citihub Eyecare is able to handle urgent cases. "I'm an optometrist that doesn't do surgery, but we can treat things with medicine," he said. "If someone came in with a piece of metal on the front of his eye, I can use my microscope and take those out, so we can do some procedures."
Glasses and frames can also be purchased. "It's really exciting to sell a pair of glasses," said Fait. "I have really affordable frames from $40 to $140." The business accepts insurance.
He hopes that his practice contributes to downtown growth and doesn't see himself retiring anytime soon. "I'm now set for as long as I want to be. A lot of people don't like retirement. We always think that's the goal, but more and more people find it empty if they're not prepared," he explained. "You have to have a lot of hobbies, a lot of friends, a lot of volunteering ready, because otherwise those days can get really long. To have a place to just come down to, even if I answer a few phone calls and see three or four people, that's just going to be great ten years from now."
In private practice for the first time, Fait is excited to be a business owner and continue the work he enjoys.
"It's a change, but it's a really exciting change," he said. "It sets me up to work as long as I want to work. I can envision myself with a cane and being that old doctor walking down the street in his 80s and still having his optical."
More information about Citihub Eyecare, including contact information, can be found at the website, www.citihubeyecare.com.
"Now I'm onto another phase of my life, and it's exciting," he said.