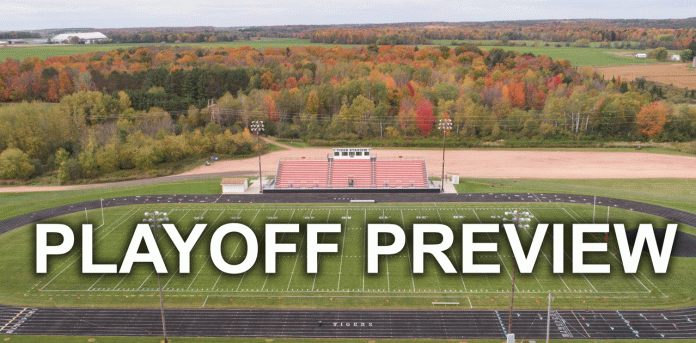 Local Teams Looking To Make Playoffs
By Malachi David – As the end of the regular season winds down for high school football, there are still a number of local teams that are in the hunt for the playoffs and have great chances to contend for a championship.
Auburndale
The Auburndale Apaches are going to have to finish the season strong to ensure that they can make a playoff run. They are currently 3-4 overall and 2-3 in conference play. The issue for Auburndale has not been poor play, but rather playing some of the toughest teams in the area.
They have three losses to Edgar, Marathon, and Stratford this season. Those losses are by combined totals of 118-20. All three of those teams are ranked in the top 100 in the state.
The Apaches will look to take advantage of their next matchup against Chequamegon. Chequamegon has yet to win a game this year.
Colby
The Hornets are currently 5-2 on the season and 4-2 in their conference. They have been having a solid season as they are currently ranked 76th in the state.
Their only two losses have come to Spencer/Columbus and Regis. They were poised for a huge matchup when they were 4-0 before they were beat 57-14 by Spencer/Columbus. They bounced back with a valiant performance but came up just short against Regis in a close game.
The Hornets will look to solidify themselves as a playoff threat this week as they take on Stanley-Boyd. The Orioles have yet to lose a game this year.
Marshfield
The Tigers will look to improve to 5-3 on the season as they face off against D.C. Everest this week.
Marshfield has had some heartbreaking losses, some exciting victories, and most recently a 54-0 win. The Tigers last two opponents have a combined three wins which should set Marshfield up for an easy playoff berth.
Pittsville
The Panthers have had quite an outstanding season. They are 6-1, with their only loss coming last week against Wild Rose.
They have had two shutouts and only allowed one team to score more than eight points against them.
Spencer/Columbus
The Rockets have made themselves into a force as they head towards the playoffs.
They are currently 6-1. Their only loss is to Stanley-Boyd, who is ranked fourth in the state. The Rockets are one of only two teams that have held Stanley/Boyd to less than 30 points which is a positive.
They play Altoona this week and figure to win this game easy. The Rockets will be an interesting team to watch in the playoffs and have a chance for a championship.
Stratford
Stratford is on a winning streak that has them going to the playoffs.
They lost their first game of the season against Stanley/Boyd. Since then they have made easy work of every other opponent.
Stratford has a good matchup this week against Marathon, but their real test comes in two weeks when they take on their rival, Edgar. That is going to be a potentially tougher game than even the Stanley/Boyd game.
That is the current breakdown of how the local teams are looking in terms of playoff potential.
Stay tuned to Focus on Marshfield for live coverage of your favorite local team as the season continues!