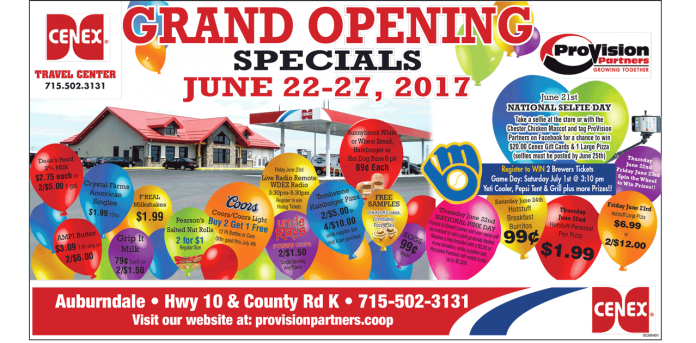 Click on Photo to see LARGE IMAGE, featuring their grand opening promotions. 
The Cenex Travel Center celebrates its grand opening June 22nd through 27th in Auburndale, just off Why 10 and County Rd K.
ProVision Partners Cooperative's roots date back to the early 1900's. Member owned and locally operated servicing central Wisconsin's agriculture producers and consumers with feed, grain, agronomy, and bulk fuels, LP gas as well as Tire/Auto Service, Cenex C-Stores, Country Store and Lawn Care. ProVision Partners continues to grow with its partners with the addition of a new Cenex Convenience store on Hwy 10 and County Hwy K in Auburndale, WI. This new 5,000 square foot store will enhance customer convenience and maximize value. It is the fourth Cenex Convenience store location for the cooperative, which will feature Cenex premium gas and diesel fuels, Hot Stuff Pizza, Chester's Chicken and many other convenience items.