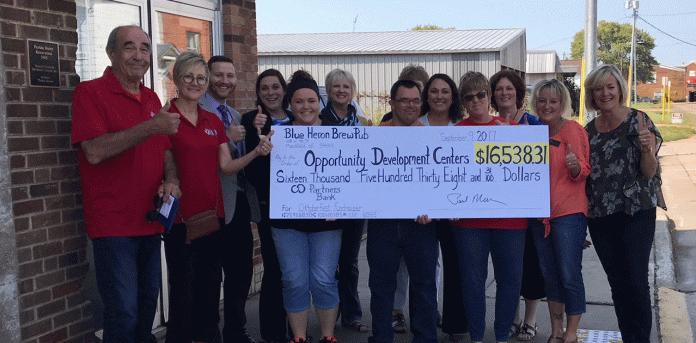 Brewpub Oktoberfest Event Raised $16,000+ for Opportunity Development Center
Last month, Blue Heron Brewpub hosted their annual Oktoberfest fundraiser, this time raising funds for Opportunity Development Center (ODC). More than 1,000 people attended the event, raising $16,538.61 for the entity that serves people with disabilities by providing skills training and employment services, and assistance in becoming more active in their communities.
"ODC's mission is to empower people with disabilities to achieve their work and life goals," said Leah Jasurda, Special Events Coordinator. "This fundraiser will help ODC further their clients and branch out into other areas of the community to share their awesome attitudes and work ethic."
Blue Heron Brewpub selected ODC because they appreciate its benefit to the community.
"The obvious reason we chose to support ODC this year is that we know they benefit the community in so many ways," said Paul Meier who with his wife, Rita, owns the Blue Heron Brew Pub. "We see their value in a practical way as well, because the people we employ through them do such a great job."
In fact, two employees from ODC work at the Brewpub.
"Stacey and Joe are great assets to our kitchen and are used in multiple locations with multiple tasks. They really bring a lot of enjoyment to work when they come!" said Jasurda.
Many volunteers helped make the event a success, and everyone is encouraged to attend next year for another weekend of fun for a great cause.
"This event was so fun for the community because they all got to come together for an awesome evening full of excitement and dancing from Boogie and the YoYoz," said Jasurda. "Plus, everything went to a great cause to better Marshfield and the surrounding area!"