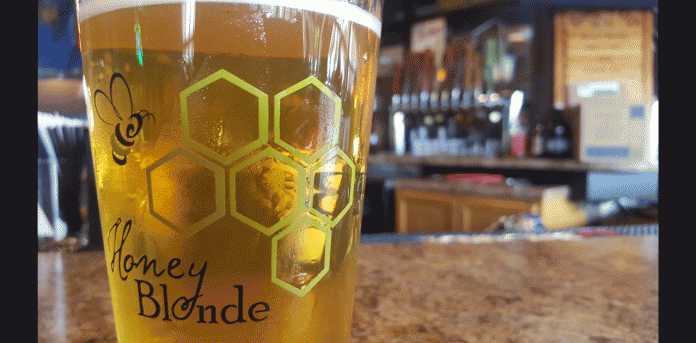 Brewpub Beer Enjoyed Throughout the State
With a long tradition of beer making in Marshfield, it's not surprising that the city is home to its own microbrewery at Blue Heron Brewpub.
"It's based on our history, really," said Paul Meier, owner. "Marshfield had a very well known brewery back in pre-prohibition days. When we started doing craft beer here, we were interested in continuing that tradition."
Blue Heron Brewpub brews on average between 350-450 barrels (each holding 240 pints) annually, with 90% of that beer consumed on-site.
"We're at a point where we could probably up our production, closer to 800-1000 barrels with what we have, if we had a bigger storage area," said Meier. "You have to keep it cold once manufactured. That's a limiting problem on site. We've got to be able to consume the beer in a timely manner."
The other 10% is consumed elsewhere, through three off-site taps and at various pubs scattered throughout the state that travel to pick up their beer by the keg.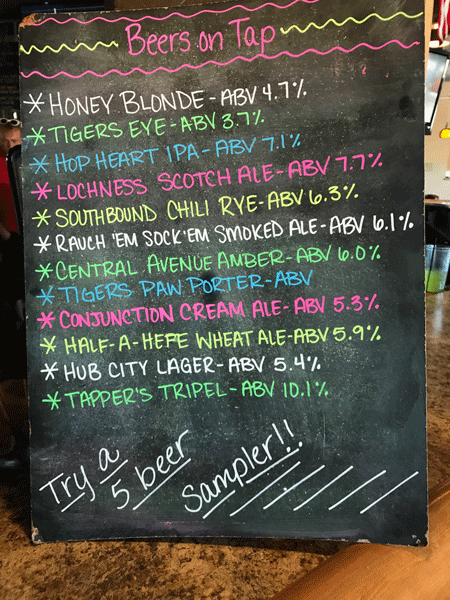 Scotty's Pizza & Chicken, located on Chestnut Avenue, currently has Tiger's Eye on tap. A few hours north of Marshfield, the Park Falls Bar also regularly picks up beer from Blue Heron Brewpub, as does Mr. Brew's Taphouse in Plover periodically. Crafty Cow, in Oconomowoc, occasionally restocks on kegs of Blue Heron Tappers Tripel that they then distribute at their establishment.
"They came by and liked our beer," said Meier. "We're not really distributing it, but everybody else comes and gets it."
Though he has considered the possibility of canning or bottling Blue Heron beer, and it has been done for special occasions such as Oktoberfest, Meier said there isn't a convenient or cost-effective way to do so on a regular basis.
"Should we expand? Do we want to expand? We could, but the economics are such that we make more money by increasing our consumption rate here than we do by sending it out," he said. "We don't look at putting beer out as anything other than advertisement. We hope people try it and say 'Gee, let's go over to the Blue Heron and see what else they have.'"
With all of the beer served at the Brewpub made on-site, and with 10-12 different varieties at any given time, enjoying a brew there is always unique experience. Brewmaster Ron Hulka designs and names the beer, all of which have their own individuality.
Even more interesting with homebrews, though the recipe might stay the same, each batch is slightly different thanks to variations of outside temperatures, malt used, etc.
"It offers the opportunity to sort of see how environment changes beer," said Meier. "I'll use Honey Blonde an example. We use sixty pounds of honey in each batch, and the honey is going to be slightly different depending on what the bees eat."
Meier particularly enjoys both the chemistry and history surrounding beer.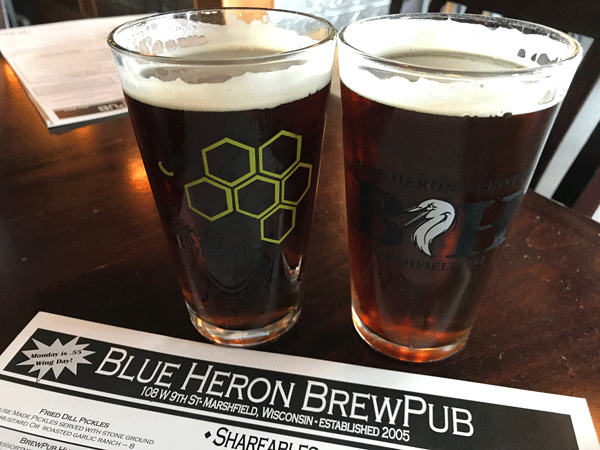 "Beermaking is the ultimate form of organic chemistry," he said. "And then there's thehistory of beer. For example, Rauchbier is a beer with a huge history. There's one town in Germany, Bamberg, that has been famous for Rauchbier for 500 years. We get our malt for our rauchbier from Bamberg."
Along with an expansive history, beer also has an ability to bring people together.
"Beer is a way of enjoyment, of socializing, and it can be a history lesson," said Meier. "Beer, like everything else, has to be enjoyed in moderation, has to be understood, and can be a vehicle for learning and socialization. Beer has an ability to bring people together."
For those looking to take home a taste of the Brewpub, Blue Heron does sell growlers, however everyone is encouraged to sit down and enjoy a pint on-location.
"It's fun to be part of a process that starts and finishes in Marshfield," said Meier. "Not to say you shouldn't try other's craft beer. You should drink all craft beer. They all have their individual variation. It becomes a fun thing."