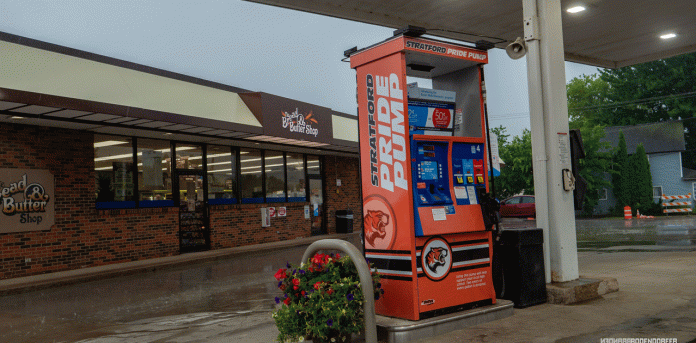 Car owners have an easy way to support their favorite local school by gassing up at special "Pride Pumps," at Baltus locations.
Through fuel stations emblazoned with the logos, colors, and mascots of Marshfield, Columbus, Spencer, and Stratford schools, Baltus donates two cents for every gallon pumped to the featured school.
A few cents adds up to thousands of dollars for area schools each year since the pumps were first installed a year ago. There are no restrictions on how the money can be used, so school districts can use the funds wherever the school board sees a need as an additional funding source.
The idea for the concept came about from a friend in a neighboring community. "I heard about it and thought it would be a great way for The Baltus Company to help support area schools, and do it in a creative and fun way," said John Baltus, company president.
With the success of the program, a "Spencer Rockets" Pride Pump was installed at the Express Fuel facility in the Great Lakes Fresh Foods lot in Spencer. Baltus is considering expanding the program into its Wisconsin Rapids, Nekoosa, and Tomah facilities in the future.
Students, parents, alumni, faculty/staff, and citizens of a participating community are encouraged to stop by their school's Pride Pump. "It's a great way for citizens of communities to help support their schools," Baltus said. "A person can pump fuel at a Pride Pump of their choosing and help contribute to their favorite school, and it doesn't cost them a penny!"
The program is another way for the long-time Baltus Company, which donates tens of thousands each year, to give back to the communities it serves.
"The Baltus Company has been in business in central Wisconsin for almost a century, and we feel a real sense of pride and responsibility to our local communities; to give back to those who've patronized our business all through the years," explained Baltus. "The Pride Pump program is just another way we can give back to our communities, and do it in a fun and unique way!"
Marshfield
1000 N. Central Avenue
Stratford
100 S. Weber Avenue
Spencer
110 S. Pacific