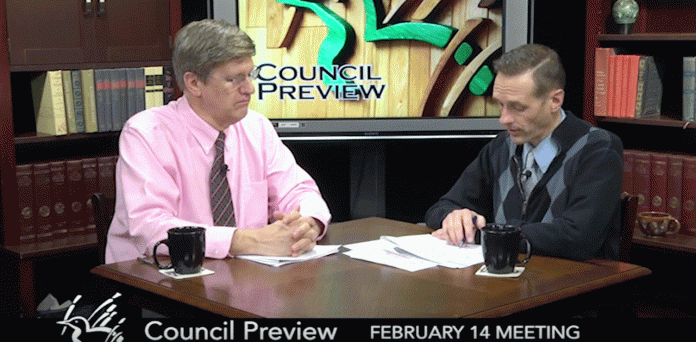 Council Preview – Agenda Highlights
In each week preceding a Common Council meeting, City Administrator Steve Barg highlights what is on the upcoming agenda. Common Council meetings are held on the 2nd and 4th Tuesday of every month at 7:00pm in City Hall Council Chambers.
Agendas are available on the City of Marshfield Website. All are welcome and encouraged to attend. Meetings are live-streamed on Charter Cable Channel 991, and online. Council Preview can be viewed on Marshfield Community Television (MCTV).

These are expected to be the highlights of discussion at Tuesday's meeting:
FINANCING THE NEW CITY HALL
Overview: It will cost money to renovate and move to a new City Hall building, but the City has options to pay for this.
The Council will discuss the potential for securing bonding with CDA, and the CDA's potential role in that process
DEBT DISCUSSION
Overview: The City's debt has inched up in recent years, but is still at a comfortable level.
A significant share of recent borrowing has been for economic development projects, where the City sees a return on that investment
The City's goal is to take care of infrastructure, along with select special projects as approved by the Council; to balance amenities with the day-to-day maintenance
Wisconsin has state regulations for how much a City can legally borrow, based on 5% of the City's equalized value
The City of Marshfield is currently at 62% of that State limit
The Common Council has self-imposed limits that are more severe than the State, limiting themselves to 65% of the state limit.
The City borrows, on average, $3 Million/Year, with the majority going towards street projects.
Additional borrowed money goes towards Wildwood/McMillan Connector Trail project (which is reaching its conclusion) and University of Wisconsin-Marshfield/Wood County projects (of which the City partners with the County to help finance)
The City is paying off more principal than they borrow, which is good news
Taxpayers will not see a change in the tax rate
Bottom Line: The City is in financially good shape.
AMBULANCE BILLING OUTSOURCING
Overview: The City might consider outsourcing ambulance billing.
The City employs a part-time person to handle 50% of ambulance billing duties, with the other 50% being part of a full-time employee's duties.
The part-time employee is retiring, providing an opportunity for discussion to change the current setup
The City might consider outsourcing this process, as other Cities do
Before recommending outsourcing, the Finance, Budget, and Personnel committee would like to see the cost benefit to doing so
Concerns include the level of service that might be lost if the process is outsourced
COMMUNICATIONS
Overview: The City would like to appoint a committee to evaluate how to more effectively communicate
The committee would evaluate how the City is communicating now, and how to improve
The committee would discuss how to use MCTV moving forward
The committee would be composed of 7-9 citizens
CITY LEGAL SERVICES
Overview: The City will bid out legal services for the first time in 6 years, as a matter of good business practice and not due to any issues with the current provider
Harold Wolfgram, of Wolfgram, Gamoke & Hutchinson, serves as current City Attorney for the City of Marshfield (and has for many years)
CLOSED SESSION
Overview: Closed session pursuant to Wisconsin Statue Chapter 19.85(1)(e)
Marshfield Professional Police Association discussion